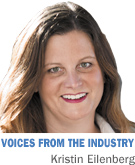 "Pharma is evil."
Facebook posts like these still feel like a direct punch to the gut. Having been in and around the industry for more than two decades, I know that pharma is not evil. I have worked side by side with pharma scientists and employees who are impassioned to conquer diseases and save lives. They truly are inspiring.
Yet, I understand why people believe it is. In the United States, 55,000 people died from misuse and overdose of opioids and heroin in 2015. Preliminary statistics for 2017 show continued increases in these types of deaths.
Is pharma to blame for the opioid crisis? Many people believe so. Several states, cities and counties already have sued pharma companies that sell opioid products. Forty-one state attorneys general, including Indiana's, just announced they are collaborating to investigate pharma's influence on prescribing behaviors and the distribution of opioids. Perhaps the lawsuits and blaming may make us feel better, but they do not focus on the true root cause of the crisis.
Pain caused the problem. It is estimated that more than 100 million Americans experience chronic pain. People in pain struggle to work, stay in school, sleep and function; in essence, they have a lower quality of life. It is estimated that people dealing with pain cost the U.S. economy $560 billion to $635 billion annually.
Pharmaceutical companies developed innovative medicines to help people dealing with symptoms of pain. Physicians prescribed the medicines to help their patients. Patients take the medications to alleviate or manage their pain so that they can live a "normal" life. The problem is that these medications are also very potent and addictive and need to be prescribed carefully with a monitoring system. Unfortunately, what started as a solution for pain turned into a crisis that is killing people.
Indiana communities have been on the front lines of this opioid and heroin crisis. Years ago, my friends at the Statehouse shared that Indiana's rural areas were overwhelmed by a "drug epidemic." Indiana citizens were overdosing and dying at alarming rates. Safety and social services did not have enough resources to combat the situation.
Local Indiana leaders saw the crisis as a systemic issue with many stakeholders—physicians, pharmacists, social workers, law-enforcement, patients, etc. They realized that each stakeholder has an opportunity to help direct the system toward better outcomes by working together and sharing their data.
Efforts started locally. Now, with the Governor's Action Plan to Combat Drug Abuse, it is a statewide, data-driven, holistic, collaborative plan. This work is being recognized as one of the most comprehensive efforts to combat the crisis in the nation. It's an integrated approach to health care, services and enforcement.
A pillar of the state's plan is the launch of an online opioid data center integrating information from more than 16 government entities. The platform includes data on drug seizures, death records, pharmacy robberies, overdose-related ambulance calls, and the use of naloxone, an overdose-reversal drug. All of these are considered opioid-crisis indicators. Data visualizations help identify trends and determine opportunities for proactive deployment of resources.
Darshan Shah, Indiana's chief data officer, shared with me that "the agencies wanted to share their data. They just needed a collective group and a platform to facilitate the sharing. With a new integrated lens, they can see geographical areas of need that they may not have been able to see before. It is improving services, programs and investments based on real-world data."
Every opioid or heroin death is an accident. According to the Indiana Department of Health, there were 619 deaths in Indiana in 2016 due to opioids, up from 262 in 2008. It is easy to assume that these are "druggie" and addict deaths, but many of them are just normal Hoosiers who make mistakes when taking their medications. Those dying are our moms, dads, sons or daughters who are being prescribed opioids to manage post-surgical or chronic pain. Imagine what these statistics would be if Indiana had not started to take action a few years ago.
Is pharma evil? I do not believe so. Opioids were developed to help relieve the symptoms of pain and improve people's lives. No pharma person could have predicted this horrific crisis or would have wanted people to lose their lives.
Indiana has recognized that the opioid crisis is complex. There is not a single way to solve it. Instead, resources and data from many stakeholders, including pharma, will be required to create a long-term solution.
With these new perspectives from the front lines, pharma needs to step up. Patients desperately need new and innovative pain medicines that are non-addictive, readily available and affordable. There is no time to delay. The patient is waiting.•
__________
Eilenberg is CEO of Indianapolis-based Lodestone Logic, a global pharmaceutical and health care consultancy.
Please enable JavaScript to view this content.