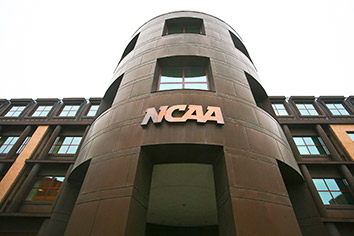 An NCAA committee is developing a proposal that would eliminate a school's ability to essentially block an athlete from transferring.
The Indianapolis-based NCAA said Wednesday that the Division I Council could introduce legislation to reform transfer rules as early as January. The Division I Transfer Working Group met this week and considered feedback from more than 2,000 administrators, coaches and faculty members.
"I am confident that in the next few weeks we will come forward with a solid recommendation that will make a real difference in the transfer environment," South Dakota State athletic director Justin Sell said.
The NCAA says the most significant change that would be considered this year is taking away from coaches and schools the ability to restrict aid to athletes after transferring. Currently, scholarship athletes must ask for permission to contact other schools about transferring. Denial means an athlete cannot immediately receive a scholarship from another school.
The working group wants to adopt a notification model that would allow an athlete to be eligible for a scholarship at another school once the athlete tells their current school they are transferring.
Because of concerns about impermissible recruiting of players before they have notified, the council introduced a proposal that would make tampering a Level II violation, which is considered a significant breach of conduct by the NCAA.
An idea to allow some undergraduate athletes to switch schools and be immediately eligible to compete was shelved for now, as was the possibility of tying academic benchmarks to immediate eligibility. Also, the working group's proposal will not include changes to graduate transfer rules. Currently, athletes who have completed an undergraduate degree can transfer to another school and be immediately eligible to play.
The D-I Council also introduced two proposals regarding FBS football that could be voted on by membership in January:
— Under the first, staff sizes will be limited to 30 people who are allowed to participate in on-campus recruiting activities. That number includes 10 coaches and four graduate assistants.
— Under the other, a new start date would be established for football practice, counting back 25 days from a team's first game. The NCAA football oversight committee had been trying to create a standardized, 14-week regular season for FBS teams but could not do so while keeping preseason practice confined to August.
Please enable JavaScript to view this content.