Bill Polian remembers walking into the RCA Dome for Peyton Manning's home debut in 1998, peering into the stands and seeing all those Dan Marino jerseys.
When he wanted an explanation, the future Hall of Fame executive was told Indiana's football fans started following the Dolphins when former Purdue quarterback Bob Griese was winning Super Bowls and never switched their allegiance. Polian, who attended high school in the Bronx and grew up a die-hard Yankees fan, never completely understood why they wouldn't support their hometown team.
Within a few short years, Manning and his teammates had converted them.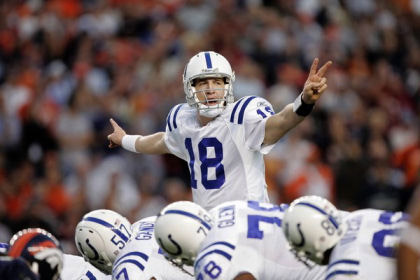 Suddenly, an oft-empty stadium was selling out so often the organization needed a season-ticket waiting list. And so many fans dressed in royal blue and white, many bearing the familiar No. 18, that television analyst John Madden often dubbed Indy as the home to the most jerseys in any NFL stadium.
On Sunday, Manning will be inducted into the team's Ring of Honor and become the first player from the franchise's Indianapolis era to have his jersey retired.
"He put the sheen on the horseshoe, and the horseshoe, because of him and Jim Irsay and Tony (Dungy), really means something now," Polian said. "He had a pretty special antenna and connection with fans."
By almost any measure, Manning had one of the greatest careers in NFL history.
He started 227 consecutive games, including the playoffs, and finished as the league's career leader in yards passing (71,940) and touchdowns (539). His 6,125 completions and 9,380 attempts are second all-time.
He holds records for most TD passes in a season (55), most yards passing in a season (5,477), most 300-yard games (93), most games with a perfect passer rating (five), most 4,000-yard seasons (14), most come-from behind wins (45), even most interceptions by a rookie (28). His 14 Pro Bowl appearances are tied for the most ever.
His trophy case includes a record five NFL MVP awards and two Super Bowl rings.
For most teams, the numbers would warrant erecting a statue outside the stadium he helped fund and that will happen Saturday. Of course, Manning did more than win on the field: He helped this basketball-crazed state and a city known far and wide for the Indianapolis 500 embrace football.
"Inside the stadium in those early days, it was hit or miss whether or not the other team was going to have as many fans as you did," said former deputy mayor Steve Campbell, a longtime season-ticket holder who starts a new job with the Colts on Monday. "Two, maybe three years in, inside the stadium, outside the stadium at tailgate areas, that was the moment I think the Colts truly became solidified as Indianapolis' team and not just the team that came from Baltimore. He was not only an ambassador for the team and the NFL, he was an ambassador for the city."
It wasn't a coincidence.
The Louisiana-born kid who grew up a fan of his dad's team, the New Orleans Saints, and played four seasons of college football at Tennessee felt so at home in the small market of Indianapolis that he warned Polian if he didn't draft him No. 1 overall in 1998, he'd kick the Colts' butts for 15 years.
Manning's football talent was obvious. Polian's research also indicated he would be an even bigger hit in the community.
Winning and winning big came in time. Manning made an even bigger impact with casual or non-football fans with what he did outside the team complex.
He started the Peyback Foundation to help underprivileged children and left town with his name on a children's hospital. He made Indianapolis a chic destination for celebrities and their memorabilia. He hosted high school football games at Lucas Oil Stadium and left handwritten notes for people he wanted to thank or who simply needed a pickup.
It wasn't an act, and it paid dividends in ways Manning may still not completely understand..
"When Peyton was drafted, he wouldn't accept losing," Greenwood High School assistant coach Dom Battinau said. "You see these kids now who are winning because of Peyton. You see the metropolitan Indianapolis area was ranked third in high school football talent last year and I think the interest was created from him, from his excitement on the field, his leadership, the way he carried himself and the fact he did it the right way. I think kids kind of take a look at what's cool and what's in, and to see this guy winning at a high level and doing it the right way, it was a draw."
And something everyone turned into some semblance of currency.
When team owner Jim Irsay asked city and state leaders to help build a new stadium to keep the Colts competitive, Irsay and Polian did the heavy politicking. Their trump card, though, always was Manning.
"I still think we would have pursued it because it was the right thing to do for the city," Campbell said before contemplating what would have happened without Manning. "Our strategy probably would have been a lot different. But I think having an ambassador like Peyton was just what we needed, and I have no idea how it would have turned out without him."
Manning was released by the Colts in March 2012 and signed with Denver where he continued breaking records for four more years.
But he was never far from the hearts of Indy fans. When he returned to Lucas Oil Stadium for the first time in October 2013, the Marino jerseys had been replaced by a sea of No. 18s — some in blue, some in orange, some in both and Manning received a standing ovation before the game started.
Almost 20 years after first joining the Colts, Manning remains one of the rarest athletes of his generation — a transformational figure Polian compared to the likes of Mickey Mantle, Willie Mays, Duke Snider and Frank Gifford.
"They became transcendent athletes, they become identified far more with the community than the team. I'm not sure we've had anyone in Indianapolis who was that way before," Polian said. "He (Manning) wanted to be not only Indy's quarterback but one of its most productive and giving citizens. It's ironic with all the records he set, first ballot Hall of Famer and two Super Bowl championships, the Peyback Foundation, the children's hospital and the revitalization of high school football in Indianapolis are far more important."
It's one reason everyone wants to have a part in the weekend celebration.
The list of speakers for Saturday's statue ceremony includes Mayor Joe Hogsett, former Gov. Mitch Daniels, Irsay, Dungy, NFL Commissioner Roger Goodell and longtime center Jeff Saturday.
More than a dozen former teammates also will attend, and together they will soak in the biggest accomplishment of all.
"It was a change of culture," Manning told The Associated Press on Friday. "Getting people talking about the Colts in March and April and who they were going to draft and all that stuff, getting Lucas Oil Stadium and the RCA Dome to be among the toughest places to play in the league, it was great to be a part of that. And if helped the popularity at other levels, that's great, too."
Please enable JavaScript to view this content.