Steve Case, the billionaire cofounder and former CEO of AOL, is scheduled to visit Indianapolis on Thursday on his multi-city Rise of the Rest bus tour. And Thursday night, he plans to write a $100,000 check to the local startup that wins the pitch competition he's hosting.
The tour is designed to highlight and support entrepreneurship.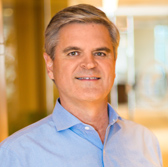 Steve Case
Case is not just in town to give away cash. He and his VIP entourage will thrust themselves into Indy's entrepreneurial scene to see what it's all about.
The crew includes FCC Chairman Ajit Pai, former U.S. Chief Technology Officer Megan Smith, and JD Vance, a partner with Washington, D.C.-based Revolution Capital. Case is founder and CEO of Revolution.
They'll start the day at the upscale downtown arts hotel The Alexander, take a tour bus to visit a few companies and co-working spaces, and do lunch with elected officials and company leaders at the Indianapolis Motor Speedway (there'll be a Rise of the Rest-wrapped racecar here). The day will end with a fireside chat and pitch competition at The Union 525.
In all, Case and company will be making eight stops in Indianapolis. Tickets for all events are sold out.
The following are written remarks from the local hosts about what they plan to showcase during Case's visit and how they feel about it all.
The Speak Easy (rustic-themed co-working and collaboration venue)
8 a.m., 5255 Winthrop Ave.
Danielle McDowell, executive director: "It is fitting to kick off the day at this location given it is a cornerstone in the early beginnings of supporting our local entrepreneurs. It represents a central convening location that focuses on the key tenants of entrepreneurism—create, collaborate, and learn. The very structure pays homage to the notions of bootstrapping with what you have and nurturing a community to support your efforts.
"The reaction of our community to (Rise of the Rest) has been overwhelming! Indianapolis had more startup competition submissions than any other city on the tour.  It shows that our community is hungry and ready to be put on a platform that has opportunities for national recognition. Rise of the Rest acknowledging this community represents another big step in our city's continued growth trajectory in the startup and entrepreneurial sectors."
DeveloperTown (innovation consultancy with tiny homes instead of desks) and Powderkeg (startup-focused content and events company)
9:20 a.m., 5255 Winthrop Ave.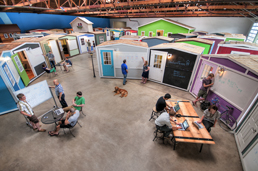 Michael Cloran, DeveloperTown managing partner: "While everyone that walks into DeveloperTown is surprised by all the houses, it's the people and projects we're working on that are most exciting. We'll be showcasing an incredible startup we're working with in the restaurant marketing space called Fude, as well as the design studio where we work with enterprise leaders on digital innovation projects."
Matt Hunckler, Powderkeg founder and CEO: "This has been an opportunity for Indianapolis for a long time and I'm excited to see the positive response from the community. This city is so deserving of the spotlight from national groups like Rise of the Rest and we have some incredible entrepreneurs, investors, and support organizations that will be bringing Indy's A game."
Public Greens (an urban farm-market inspired cafeteria and microfarm)
9:50 a.m., 900 E 64th St.
Martha Hoover, founder and owner of parent company Patachou Inc.: "Public Greens dedicates 100 percent of its profits to the Patachou Foundation, which feeds at-risk and food-insecure children in the Indianapolis community. Situated at the head of the Monon Trail, Public Greens employs a dedicated farmer for the block-long grounds, fully planted with crops and edible flowers used in the restaurant and in the feeding program of the Patachou Foundation."
"Rise of Rest spending the day in Indianapolis is a testament to the entrepreneur culture that exists in our city today."
ClusterTruck (food-delivery tech firm with a fleet of gig-economy couriers)
10:25 a.m., 729 N. Pennsylvania St.
Chris Baggott, founder and CEO: "We will be discussing how we are using technology and software to revolutionize not only prepared food delivery, but re-engineering the gig economy so it works for the participants.
"I got started online with Steve Case and AOL. The exposure he gave us all to the benefits of being online changed my life and Indianapolis for the better. I'm thrilled just to thank him."
High Alpha (venture studio that creates and adopts enterprise software companies)
11:10 a.m., 55 Monument Circle
Scott Dorsey, managing partner: "We're excited to be introducing the Rise of the Rest delegation to High Alpha's unique model of entrepreneurship, which marries venture capital and company creation. During our time together, we will detail our proprietary Sprint methodology and dig into our approach to launching new ventures. Additionally, the delegation will hear from a number of the breakout software companies we're building at High Alpha, including Lessonly, Doxly, Zylo, Sigstr, and Quantifi as a pitch competition finalist."
Kristian Andersen, partner: "We're thrilled that the Rise of the Rest organization is celebrating the Indianapolis startup ecosystem, and we're honored to be able to play a role in hosting them while they are in Indy. We've long admired Steve's commitment to shining a light on emerging technology communities ,and we look forward to partnering with him, J. D. Vance, and the rest of the RotR team as we continue to highlight our community's remarkable startups and entrepreneurial success stories."
Salesforce (software giant with more than 1,500 Indiana employees)
11:45 a.m., 1 E. Ohio St.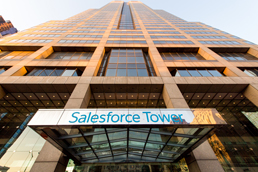 Bob Stutz, Salesforce Marketing Cloud CEO: "I've only lived in Indy for a short time, but I've noticed the positive spirit, the friendliness, the incredible talent pool. Tech startups and global companies like Salesforce are flocking to the booming economy, affordable living, and business-friendly environment. Not to mention, direct flights to most major cities, including San Francisco, New York, and Denver, and just a short drive from Chicago, Nashville, and more. That's why we're proud to call Indianapolis home to the largest Salesforce hub outside of our global headquarters."
Indianapolis Motor Speedway
12:30 p.m., 4790 W 16th St.
Rebecca Ruselink, chief information officer at parent firm Hulman & Co.: "(Hoosiers have) a great track record of entrepreneurship and sense of purpose in building things from the ground up. From tech growth and innovation with companies like ExactTarget and Interactive Intelligence to established businesses like the Indianapolis Motor Speedway and IndyCar—these are things built by Hoosier entrepreneurs. We have a great network of success in Indy that continues to fuel new innovative businesses."
The Union 525
2:20 p.m. (tour), 3 p.m. (fireside and pitch), 525 S. Meridian St.
John Hurley, managing partner: "We want the emphasis to be on the companies that call The Union 525 home. Our venue was designed to be a platform to showcase the talent and innovation happening in Indy. The Union 525 is a byproduct of the explosion of tech in Indy, and I believe that we represent that well. Our model enables companies to start, scale, and exit without requiring long-term rental commitments. 
"RotR's visit shows that Indy is experiencing something special, and it's not just about tech. It's our airport, infrastructure, downtown, and the city's leadership that has culminated at that right time to make Indy a worthy destination."
Please enable JavaScript to view this content.