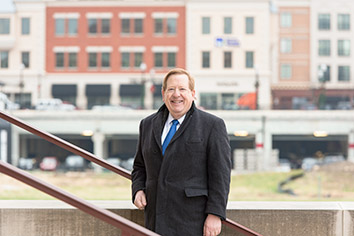 Carmel Mayor Jim Brainard is getting a raise next year that's larger than one given to other elected officials in the city, but at least one Carmel City Council member doesn't think the increase is enough.
On Monday, the council unanimously approved a 6.55 percent salary increase for Brainard, while only giving a 3 percent raise to Judge Brian Poindexter, Clerk-Treasurer Christine Pauley and council members.
The decision will increase Brainard's annual salary from $130,504 to $139,053.
Poindexter's salary will increase from $123,397 to $127,099 and Pauley's will go from $106,749 to $109,952. Each council member's annual paycheck will increase from $19,853 to $20,449.
Last year, Brainard received a 2 percent salary increase after the city council sparred over whether to give the six-term mayor a 40 percent boost in pay.
Also last year, the council also considered significant increases for other elected officials—a 20 percent increase for Poindexter and 28 percent for council members—but ultimately approved 2 percent increases for Poindexter and Pauley, and a 15 percent raise for council.
Council member Ron Carter, who supported the increases last year, said the 2018 increase for Brainard still isn't enough.
"I think it's unfortunate that you're compensated at the level you're compensated at," Carter said, directing the comment to Brainard.
Carter said he thought he had a consensus with at least three other council members a couple of weeks ago to introduce an even higher increase for the mayor, but even that amount Carter didn't think was enough.
"I again apologize for not getting this job done," Carter said. "You deserve more than what you're getting."
Brainard said that no elected official gets into this work for the pay.
"What has been discussed and proposed is appreciated," Brainard said.
Please enable JavaScript to view this content.