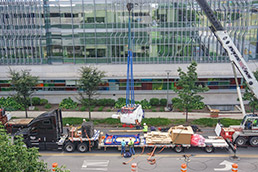 Workers used a crane to place a new imaging machine at IU Health's Neurosciences Center in Indianapolis. (Photo courtesy of IU Health)
Indiana University Health has taken delivery of a massive imaging machine that combines the technologies of positron-emission tomography (often called PET) with magnetic resonance imaging (referred to as MRI). The machine, manufactured by Germany-based Siemens, will be used at IU Health's Neuroscience Center at 16th Street and Capitol Avenue, primarily for oncology and neuroscience patients.
IU Health said it is the first health system in Indiana to get the combination machine, which is designed to help doctors determine whether a growth is cancerous with less radiation than other scanners and can prevent unnecessary surgeries.
"We believe the unit will be an excellent tool for prostate cancer, liver cancer, epilepsy and multiple other areas," said Todd Stanley, director of radiology at IU Health.
The machine was delivered by crane. IU Health officials had to remove a large panel from the back of the Neuroscience Building so workers could position the machine inside.
The not-for-profit health system did not say how much it paid for the machine. Siemens does not list a price on its website.•
Please enable JavaScript to view this content.