In the competition between Bloomington's two hospitals, there's little question which is David and which is Goliath.

Indiana University Health Bloomington Hospital has 273 staffed beds and last year posted income after expenses of nearly $80 million. The hospital has been in business under one name or another since 1905.

Monroe Hospital opened its doors just 11 years ago, but has already gone through nine CEOs, struggles to fill its 32 beds, declared bankruptcy, and last year posted a loss of $1.6 million.

A big part of the problem, Monroe Hospital claims in a federal lawsuit that could have ramifications for many Indiana counties, is that IU Health is taking unfair advantage of the market, thanks to its designation as sole provider of all emergency medical transportation services in Monroe County. Under the arrangement, IU Health's ambulances are the sole responders to 911 calls in Monroe County.



And those ambulance drivers deliver most of the patients—about 95 percent—to their own hospital, even when the smaller hospital is closer or patients request to go there, Monroe Hospital says in its lawsuit.

That action, Monroe Hospital claims, hurts competition and violates state and federal antitrust laws.

For nearly two years, the hospitals have been battling in U.S. District Court in Indianapolis. IU Health has said it has no duty to assist its competitors and argues it is immune from federal and Indiana antitrust liability in this situation. IU Health says its activities were a result of a binding agreement with Monroe County.

Last year, a judge granted IU Health's motion to dismiss some of the antitrust claims. But two months ago, the case was reassigned to another judge, who allowed Monroe Hospital to file an amended complaint. The small hospital filed a new complaint Oct. 9.

The battle is now entering an intense phase that could play a big role in whether Monroe Hospital can bring more patients into its emergency room and, in some cases, for more profitable services, such as surgeries and inpatient care.

"If not for the anticompetitive conduct … Monroe Hospital's emergency department would have received thousands of additional patient deliveries from IU Health Bloomington Hospital Emergency Medical Transport Services," Monroe Hospital said in its amended complaint.

It added: "Based on past experience, more than 25 percent of these patients would have been admitted as inpatients by Monroe Hospital. As a result of the Defendant's past and ongoing violations of state and federal antitrust laws, Monroe Hospital has been deprived, and will continue to be deprived, of millions of dollars of emergency department and inpatient revenue."

Indianapolis-based IU Health does not contest Monroe Hospital's allegations that ambulance drivers delivered the vast majority of patients to the IU Health Bloomington Hospital. But it calls Monroe Hospital's claims that it is engaging in illegal conduct baseless.

"IU Health believes the allegations of the amended complaint continue to have no merit and it will defend the lawsuit accordingly," the health system said in a statement to IBJ. "IU Health continues to work with all health care providers in south central Indiana to ensure the best emergency care is received."

The lawsuit could affect other counties in Indiana that use a variety of medical transportation services, from hospital-owned and privately owned ambulances to city fire departments and EMS services.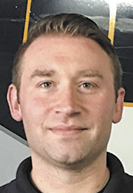 Metz
In some counties, competing hospitals have agreed to use a service overseen by all of them, said Nathaniel Metz, president of the Indiana EMS Association, which represents ambulance services, paramedics and EMTs across the state.

"They've agreed to do so to prevent any potential problems with drivers steering patients to certain destinations," Metz said.

One example, he said, was in Lafayette, where Franciscan Health and IU Health own hospitals. Both health systems have representatives that sit on a board overseeing the Tippecanoe Emergency Ambulance Service, staffed by Franciscan Health.

In the Bloomington case, the issue goes back years, long before IU Health acquired Bloomington Hospital and its ambulance services in 2010. For decades, according to the lawsuit, Bloomington Hospital enjoyed an unchallenged monopoly in Monroe County for emergency medical services, and its ambulance service was the county's sole designated EMS service.



But when Monroe Hospital opened its doors in 2006, four miles away, with a 24-hour, fully staffed emergency room, it set out to compete for emergency medical services.

Competition, however, has proven tough. In recent years, IU Health Bloomington Hospital's emergency room has done more than three times the amount of business as its rival, based on the number of ER visits reported by the Indiana State Department of Health, the lawsuit says. The suit says both are Level 3 trauma facilities, but only IU Health is listed as Level 3 by the Indiana State Department of Health.

And IU Health's control of the ambulance service has not made the situation better, Monroe Hospital claims.

From April 2013 to May 2016, IU Health ambulances conducted nearly 45,000 runs in Monroe County. But the ambulances delivered patients to the Monroe Hospital emergency department on only 1,444 occasions—amounting to less than 4 percent of the time, according to the lawsuit.

The ambulances are stationed at IU Health Bloomington Hospital on West Second Street and marked with "IU Health" in large letters.

To make matters worse, Monroe County officials did not adequately regulate the ambulance service, Monroe Hospital says. The county's ambulance advisory board often held its meetings at the IU Health Bloomington EMS conference room, and the meeting minutes and other documents were stored at the hospital or by various board members, not at a Monroe County government building, the lawsuit states.

On top of that, board Chairwoman Kelly Mullis was also IU Health Bloomington Hospital's ambulance director. Two other members of the board were IU Health employees. Monroe Hospital did not have any members on the board. In effect, IU Health Bloomington Hospital is self-regulating the county's emergency medical transportation services, the lawsuit says.

Monroe Hospital's financial troubles have been ongoing since it opened. The small institution was founded by two Bloomington doctors who both mysteriously left the operation within a year, according to The Herald Times in Bloomington.

The hospital bounced from owner to owner over the next decade. In 2014, it filed for bankruptcy reorganization, saying it had twice as many liabilities as assets. It later sold itself to Los Angeles-based Prime Healthcare Services, which owns about 40 other hospitals in 11 states.•