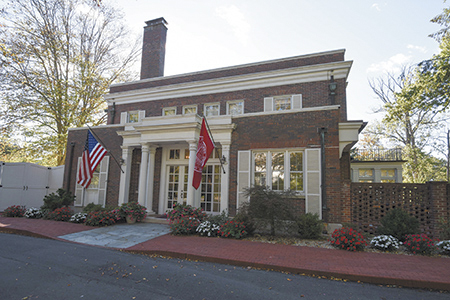 Indiana University President Michael McRobbie and his wife, Laurie Burns McRobbie, have spent more than a decade looking after Bryan House, the official residence of IU presidents since 1924.
But Michael McRobbie has never passed a night there, and his wife has spent only one.
"When Michael became president, we still had three children in high school at home," Laurie McRobbie explained. "They were going to leave home in a few years, and we really didn't want to make them move twice."
Not that the Bloomington house, named after the school's 10th president, William Lowe Bryan, lacks for company. Its first floor is used for school and presidential functions, the second to house visiting VIPs, and the third for offices (including Laurie McRobbie's). Indeed, having full-time residents might actually cramp the busy building's style.
"We use the house continuously for entertaining, and it works very well for that," McRobbie said. "If we were living here, I think it would be harder to make it as accessible as it is. I think we would put more limits on it."
When the house was built, it sat on the edge of campus. But these days, the university surrounds the Ballantine Road abode. A new amphitheater butts up to the rear of the house, and the massive new Tobias Pavilion vastly increased the home's first-floor public space. More amenities means more visitors—planned and otherwise.
"Because we don't live there, the students feel very comfortable just walking around the grounds," McRobbie said. "And with the amphitheater just west of the pavilion, students are there all the time, walking up on the patio and enjoying the gardens. It's wonderful that they can do that, but if we were living there we might feel a little less enthusiastic about them coming right up to the windows."
McRobbie spent her lone night at the house in one of the second floor's two large suites for visiting dignitaries, because the power was out at her family residence.
The first floor is mostly given over to public spaces. The front door opens onto a two-story entryway with a massive staircase. To one side sits the dining room, kitchen and sunroom. On the other side is the living room, a small study and a conservatory.
McRobbie said her favorite downstairs area is the dining room, equipped with no less than six paintings by Indiana-born artist T.C. Steele. Two are still-lifes, which is pretty impressive considering Steele painted only three in his entire career.
Most of the home's paintings were gathered from around campus, while several others came from a collection donated by Indianapolis-based insurer OneAmerica. Six more Steeles are scattered around the house, along with many other priceless mementos, most drawn from the roughly 50 collections curated by various university entities. The new Tobias Pavilion sports an elaborately carved elephant tusk from Liberia that was created in the mid-20th century (and borrowed from the Mathers Museum of World Cultures). There are also a couple of fossils from the Indiana University Paleontology Collection.
The dining room's china cabinet contains the ornate china and glassware collection of now-deceased political economist Elinor Ostrom, who was an IU professor and Nobel Prize winner in economics.
The school keeps the cost of design changes relatively low by using existing university resources and assistance from IU's own interior design staff. Much of the furniture, for instance, is also drawn from university stocks.
"We've been very mindful of not having to purchase furniture," McRobbie said. Former president "Herman B Wells was a great collector. He used to go on shopping trips all over southern Indiana to find antiques. So we have a lot of beautiful furniture that's very period-suitable."
Pieces purchased by Wells dot the first floor. One of the quirkiest is a "sound sculpture" composed of long, thin, metal rods topped with large cylinders. When pushed, they bump against one another and make musical sounds.
"Herman Wells kept it at his house on 10th Street," McRobbie said. "He used to come home at night and give it a rap with his cane to announce his arrival. It now stands near the stairs, with a sign explaining what it is and asking people not to touch it. But I confess that Michael and I do from time to time give it a little tap."
The McRobbies decorate the house in a manner that jibes with its Greek revival architectural style and also the period in which it was constructed. Other than that, they've pretty much left the place alone—unlike some past presidents, who've gone so far as to build substantial additions to the storied structure.
"The buck stops with Michael and me," McRobbie said, "in the sense that we're both stewards of this place. It's a responsibility that we feel we hold on behalf of Indiana University and everyone who comes here. And ultimately, we do think of it as ours."•
Please enable JavaScript to view this content.