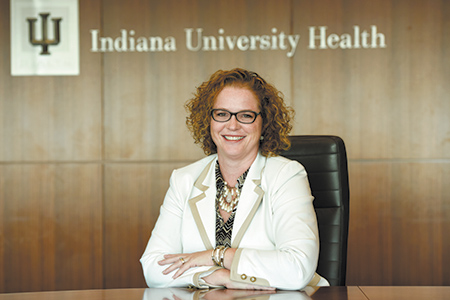 After stints as Indiana Finance Authority CEO and as a Hoosier Lottery commissioner, Alvey became chief financial officer for IU Health, the largest Indiana hospital system by revenue, serving more than 1.4 million patients annually and employing nearly 30,000 people.
Rising up: With a bachelor's in accounting from Indiana University and a law degree from Indiana University Robert H. McKinney School of Law, Alvey worked as financial director for IU and as an associate at Ice Miller. A desire to serve led her to government work and then into health care. "Each organization is different," she said. "It's about how we service clients in the best way at the lowest cost to them. The common denominator is to provide great value."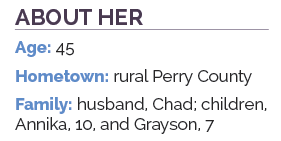 Problematic health care: "The biggest problem is stability in government. If health care as it is regulated today were left alone—if all the laws and policies were status quo—we could build long-range plans. It's not perfect, but at least you have the general rules. I'm not saying I love the Affordable Care Act. It has good parts and bad parts. But right now, all Hoosiers have access to health care. That's a good thing." 
Mentor: "All through my career, I've had mentors helping me—people who push you to be better, not to be your friend but to say the hard things that you can't see," said Alvey. Among them, Ryan Kitchell, executive VP at IU Health. "He has such high expectations that you just always want to rise to meet them."
Points of pride: While it was great being named one of the CFOs to Know in 2017 by Becker's Hospital Review and being recognized by Gov. Mitch Daniels with the Distinguished Service Award in 2010, Alvey said she's most proud of less public things "like thank you notes I get from individuals. Honestly, the best recognition is seeing the people that you have mentored continue to move up."
Givebacks: Alvey has served on the board of The Children's Museum of Indianapolis, the State Board of Law Examiners, and her law school alumni board.
On not being able to make everyone happy. "It's really important that you explain the why. We can all take bad news if someone explains why," she said. "Always be direct and truthful and connect back to the mission." Plus, she added, "If someone asks the question, you can say, 'I don't know,' but you have to go find the answer for them." 
Inspirational song: Alvey has been known to crank up "Eye of the Tiger" to get her team motivated.
Favorite place in central Indiana: campus of Indiana University in Bloomington 
Please enable JavaScript to view this content.