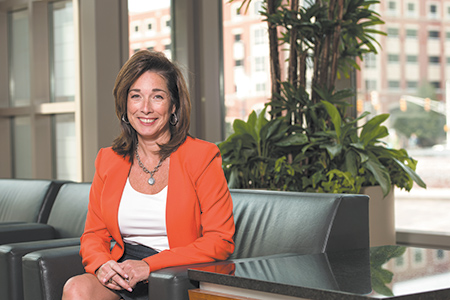 Barnes' legal background got her into Lilly, but now she's part of the executive committee in a role that's "as close to my calling as it can possibly be," she said. She leads an organization responsible for ethics and compliance in nearly 90 countries around the world. As a "champion for integrity," she said, "I can't think of anything more fulfilling."
Rising up: The first in her family to go to college, Barnes attended Purdue University as a chemistry major. "Five minutes into chemical equations at three in the morning, I realized I didn't want to do that anymore." With a bachelor's in political science, she was accepted at Harvard Law School and intended to practice on the East Coast. But her husband got a teaching job at Purdue and, she said, "it was his turn." So they moved to Indiana. "I was an antitrust lawyer, and if you are in antitrust law in Indy, you are working for Eli Lilly," which is where she's spent the bulk of her career after a stint as litigation associate at what's now Faegre Baker Daniels. She thought the Lilly job would last until her husband finished his thesis. But "here I sit," she said, "23 years later."
Point of pride: Under Barnes' guidance, Lilly was recognized by the Ethisphere Institute as one of the World's Most Ethical Companies for 2017. 
Inspirational moment: "I became a better leader when I found the courage to be vulnerable and share my personal story."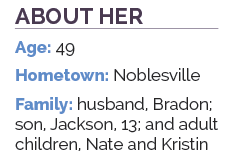 Givebacks: Barnes serves on the boards for Algonquin Power & Utilities Corp., is chairwoman of the Ethics and Business Integrity Committee for the International Federation of Pharmaceutical Manufacturers & Associations, and volunteers as vice chairwoman of the board for The Center for Performing Arts. "I have a passion for the arts. I see them as a tremendous unifying force for communities." She's also on the board and executive committee for Visit Indy, and has been interim chairwoman of the board for the Great American Songbook Foundation and The Children's Museum of Indianapolis. Nationally, she is a member of the executive steering committee of the Ethisphere Business Ethics Leadership Alliance, Corporate Ethics Leadership Council, the Conference Board's Global Council on Business Conduct and the Healthcare Businesswomen's Association.
Inspirational books: Sheryl Sandberg's "Lean In" and "Option B." "Sandberg uses some of the darkest, most personal experiences in her life, and graciously shares how she managed and persevered in an effort to share learning and make others better."
Favorite place in central Indiana: The Center for the Performing Arts in Carmel. "I've been blessed to see its progress from nearly the
very beginning."
Please enable JavaScript to view this content.