At Ball State, Bott developed a comprehensive, university-wide strategy for online education that resulted in growth in students, programs and revenue, along with faculty engagement and quality teaching.
Rising up: It wasn't until she was doing her undergraduate work in psychology and communications at DePauw University that Bott became interested in education as a potential field. She started her master's at IUPUI but was accepted at the University of Akron, where she earned her master's and a doctorate in industrial/organizational psychology. Her focus was on teamwork, and she published articles on small-group research and team dynamics. "One of my favorites," she said, "was about jury decision-making. We looked at both civil and criminal cases and what pieces of evidence turned the jury." She began her Ball State employment in 2004 as an assistant professor of management, taking on additional positions as executive director of MBA and graduate certificate programs, and assistant—then associate—provost for learning initiatives.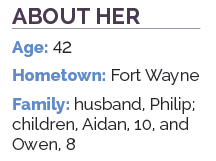 Transitional moment: "Restructuring a troubled unit while building a new unit to significantly advance a strategic priority of the university." 
Going online: Bott developed Ball State's program by working with all the university's deans and department chairs in an effort to serve a student base that would never come to campus but still deserved a quality education. "My mother was a non-traditional student," she said, "So this was personal to me." The program grew to a point where 65 percent of faculty members were also teaching online. 
On fundraising: "It was something I was terrified of when I took the job," she said. "What I learned is that the ask is the easiest thing to do. When I asked for $3 million, it was literally a two-minute conversation because we had a year and a half of a relationship. I was helping him live out his passion."
Mentors: Bott's long list includes Lynne Richardson, former dean of the Miller College, who helped her "understand I didn't have to sacrifice personal life for professional life."  
Givebacks: Bott has worked with Habitat for Humanity Women's Build for over a decade. She has also found time for the United Way Campaign Leadership Team, Innovation Connector (a Muncie incubator) and the Legislature's Alcohol Code Revision Commission. 
Inspirational book: "Pride and Prejudice," which, she said, "is fundamentally about gender roles. … I find it in some ways sad but also empowering."
Favorite place in central Indiana: Downtown Indianapolis. "We travel all over the world and we love the JW downtown."
Please enable JavaScript to view this content.