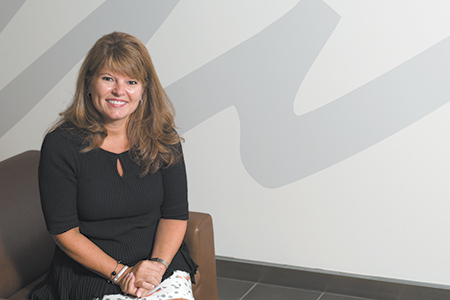 BSA LifeStructures, a leading national architecture, interior design and engineering firm with a specialty in health care facilities, has an unusual leadership structure. Every five to seven years, its president steps down and into another role with the company, allowing a new leader to step up. Davis got the shoulder tap in 2016, becoming the $50 million firm's first woman president. 
Rising up: As a young girl, Davis would draw floor plans and landscape designs. She graduated from Purdue University with a bachelor's in environmental design and worked as an interior designer at Bowers Diversified. Picked up by BSA despite a hiring freeze, she quickly took on leadership roles. She left the company in 2001 to join its affiliate company, Maregatti Interiors, only to be wooed back to BSA to lead its interiors department.
Health care design challenges: The three basic areas of health care facilities—healing, learning and discovering—each have their own complexities. "We're dealing with very strict codes," she said. "We're also designing spaces that impact people's lives at times when there is usually something wrong."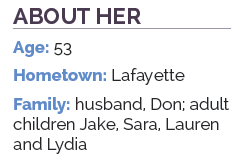 On BSA's presidency term limit: "For me, the changing is awesome," she said. "Certain people may have the strengths we need at a certain point in time. I would not have survived during the downturn in the economy. I think the reason I was brought in was because of being a people person, a rally-the-troops type of thing. I want this to be a family. I want us to care about each other." A side benefit: a team of former presidents nearby for support and advice.
Pride projects: "I love cancer centers. My family has a lot of cancer history and those projects are near and dear to my heart. And I loved doing Shelbyville's Major Hospital. As long as I've been working with them, we've talked about a replacement hospital. It was thrilling to finally see that come alive for them. And I have to say that the Active Learning Center at Purdue is pretty special." 
Mentors: Her parents. Their lessons? "Just honesty, integrity and hard work. You do your best. I didn't set out to be president of any company or director of an interiors group. I was just working on my own trying to do good design for my clients." 
Givebacks: Davis has lent her leadership talents to the American Heart Association's Heart & Stroke Ball executive leadership team, the executive committee of the Leukemia & Lymphoma Society's Light the Night Walk, and the Indiana Chamber of Commerce board while also working on the executive committee of Executive Women in Healthcare. "In the past—as a single mother from when my daughter was 2-1/2—I had to focus on other things. … Now I'm passionate about getting people involved in whatever they can do. I want them to learn from my mistakes."
Impactful movie: "Rudy"
Please enable JavaScript to view this content.