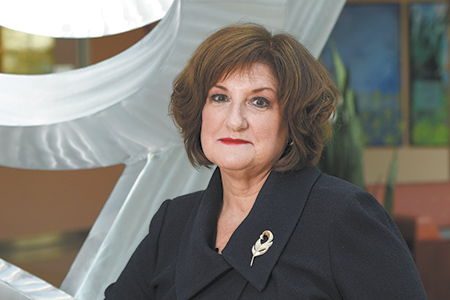 Guided by Irwin, the Community Health Network Foundation is dedicated to serving the needs of both patients and caregivers with funding for programs such as an Oncology Assistance Fund that helps patients in treatment with their transportation challenges, utilities and other needs. "Hoosiers are very generous, fortunately," Irwin said. "They are willing to listen when we talk about our mission to make health care more accessible and open for people. We're not building buildings. We're focusing on what goes on inside those buildings."
Rising up: At age 8, Irwin faced a life-threatening illness, which forced her to learn to walk again and redevelop her motor skills. "A foundation helped me and my family, and I have wanted to do whatever I could to help others in similar situations," she said. A two-time graduate of Indiana University, with a bachelor's in education and a master's in education and learning developmental sciences, Irwin has held operations and human resources leadership roles at Blue Cross/Blue Shield, Methodist and Clarian Health, Anthem, and then Eli Lilly and Co. and Roche Diagnostics, where she was national director for state government affairs. Still, she said, "I always felt like I was not doing enough to help others. I felt that I had been saved for a reason and that I needed to live up to my potential. I always felt that I needed to do the 'big thing.'" That led her to Community Health Network Foundation.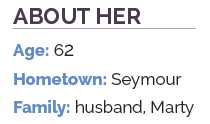 Transitional moment: In 2003, Irwin met with President George W. Bush when she was being recognized for her volunteer work. "I had expressed to him that I did not feel that I had done anything worthy of praise from a president of the United States." He countered with what he saw regarding the value of her work. "It has motivated me even more to be open and sensitive to others' needs."
Mentor: Her parents—middle-class business owners who taught her a strong work ethic—and Sen. Richard Lugar, whom she admired "for his ability to listen to many different opinions and be able to make a big difference." Also, Gov. Bob Orr was instrumental in helping her realize the courage to manage multiple priorities and make the right decisions, even if they were unpopular.
Givebacks: Irwin serves on the boards of Ascend Indiana and the Richard G. Lugar Excellence in Public Service Series and chairs the board of EmployIndy. On sizing up her volunteer opportunities: "I look at the organization's mission and objectives. I then explore how I can make a difference. I also like to know how the resources will be utilized. What is the organization's track record in helping others?"
Impactful song: "My father would sing 'You Are My Sunshine' to me as a child and even as an adult." Another favorite: "His Eye Is on the Sparrow." "I could tell if God was watching for sparrows, that he would also watch over me."
Favorite place in central Indiana: "Eagle Creek Reservoir on our pontoon watching the eagles soar."
Please enable JavaScript to view this content.