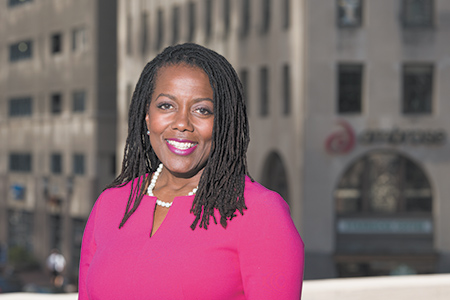 After transitioning from a leadership role at the Greater Indianapolis Chamber of Commerce to a key role in Mayor Joe Hogsett's cabinet, Jones has played leadership roles in the Salesforce Tower expansion project, the Infosys project with its approximately 2,000 jobs, and others.
Rising up: With her father working for U.S. Sen. Birch Bayh and U.S. Rep. Andy Jacobs, Jones has a long history of stuffing envelopes, attending political dinners, and otherwise being around the political process. She studied broadcast journalism at Miami University of Ohio before getting her law degree from DePaul University College of Law. General practice work in Chicago led to stints as director of the Indiana Professional Licensing Agency, and director of public policy and then general counsel for the Indy Chamber. In January 2016, she took the leap into government, accepting an offer from Hogsett to serve as deputy mayor of economic development. "My father was literally cheering," she said.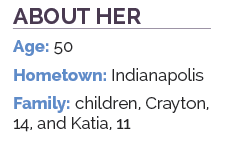 Transitional moments: "Working with the Chamber doing policy development and legislative lobbying, working with corporations and the civic engagement and not-for-profit boards. Working with the various entities allowed me to develop insight into how to work closely with corporate leaders and know and understand their thought process. And how to make a business case for policy or initiatives."
Mentors: "I am very fortunate to have several mentors. One piece of advice that probably four or five out of seven gave me was that sometimes you need to remember to own your position that you have earned. And not be so humble."
Point of pride: "Being one of the Chamber lobbyists to lead the effort in [weakening] RFRA and leading the effort of in-state tuition for undocumented immigrants at the Statehouse—being able to make the business argument and educating our state Legislature on the negative impact of the [RFRA] legislation on our city and communities. It was extremely difficult work, but so rewarding to achieve the victory."
Givebacks: Jones has taken on a full slate of board seats, including at Growing Places Indy, the Indiana Latino Institute, 16 Tech, EmployIndy and Develop Indy.
Impactful song: "The 1971Coca Cola commercial with, 'I'd like to teach the world to sing' represents peace and harmony in the world … a unification of all people surrounding a positive goal/impact/item. I am such
a romantic."
Political aspirations? "When I was young, I wanted to be the first black female president. Now, many people are trying to recruit me. It's not completely out of the question. But it's like, 'Can I focus on serving our mayor and the city first?'"
Please enable JavaScript to view this content.