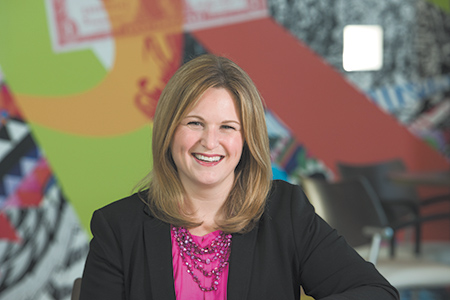 Joining First Internet Bank a week before it launched in 1999, Lorch has grown with the company as it rose from $1.2 million in deposits to $2.3 billion. She was named executive vice president in early 2017. 
Rising up: After completing her bachelor's in economics and French from DePauw University, Lorch was hired by fellow alum David Becker to work for his financial services company. When Becker launched First Internet Bank, she followed. "The benefit of being young and inexperienced was that I didn't realize how many startups fail," she said. "I was convinced I would be a dot-com millionaire." She returned to school twice in the ensuing years, once to earn her MBA from Indiana University Kelley School of Business and the other to graduate from the CBA Executive Banking School. "If I had to encapsulate how I got here, it's this: I said 'yes' far more often than I said 'no.'"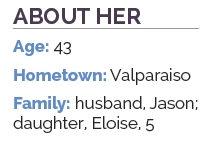 Transitional moment: At a young age, Lorch's love of marketing was obvious. "I knew all the jingles," she said, but "there came a point where I needed to decide if I was going to stay with my first love and focus on marketing or if I would broaden my skills and experience. I trusted my instinct; I chose the broad path."
Point of pride: "We started based on an informal focus group and their answers to a question: 'If you could create a bank from scratch, what would it be like?' From the start, we were—and remain—focused on the customer," Lorch said. "When the World Wide Web was just starting to enter the popular lexicon, we launched a bank with no teller line, serving customers entirely online. The convenience we take for granted today seemed a radical idea at the time. Travel agencies, dial-up internet and video rental stores were as much a part of our culture as bank branches. No question, we were ahead of our time."
Givebacks: Lorch is a member of the Engagement Committee for the United Way of Central Indiana and the Funds Development Committee for the Indianapolis Neighborhood Housing Partnership as well as a trustee of the Malpas Scholarship Trust at DePauw University. "All create transformational experiences for those whom they serve."
Impactful movie: "I had a more upscale answer all lined up for this one, but if I'm being really honest, it was probably 'Baby Boom' with Diane Keaton. She does right by her family and her community, and she achieves professional success at the same time. Bear in mind, I was at a very impressionable age when I first saw it."
Favorite place in central Indiana: The Children's Museum of Indianapolis, where she shares small moments of discovery and achievement with her daughter.
Please enable JavaScript to view this content.