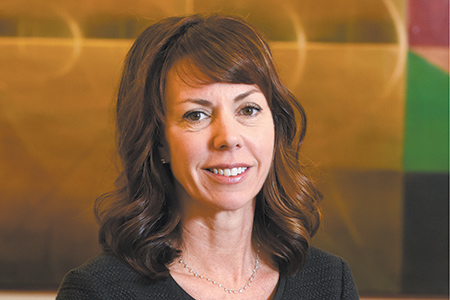 Pierson achieved significant victories for Faegre's product liability mass tort clients in trials and pretrial proceedings while helping grow the firm's Product Liability & Environmental team to more than 100. "My job is to be one of the trial lawyers at the table in the courtroom, but also to help run the team of professionals doing the heavy lifting behind the scenes," she said. She also helped bridge the gap in the merger of Baker & Daniels and Faegre & Benson, which led to her appointment to the management board. "It was a great example," she said, "of how one plus one can equal three."
Rising up: Heavily involved in debate and forensics in high school, Pierson noted that the judges at competitions were all lawyers. "My impression was a good one. They were great communicators, good arbiters of hard issues, fair, and passionate about causes." In order to join their ranks, she graduated from Emporia State University with a bachelor's in communications and from the University of Notre Dame with a law degree. After serving as a law clerk for former Indiana Chief Justice Randall T. Shepard, she became an associate at Bingham Summers Welsh & Spilman. She joined Baker & Daniels in 1999.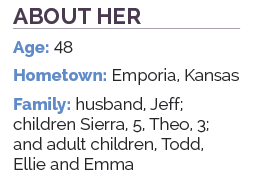 Transitional moment: Obtaining a defense verdict in her first multi-district bellwether trial, which dealt with a mass tort against a medical-device manufacturer. "When you have the opportunity to defend a good product and you know you've done the best case you can for the client, that's rewarding … but it doesn't hurt to win, too."
Mentor: Mary Beth Claus at Indiana University Health, Tom Stayton and Chris Scanlon (both retired from Faegre), Justice Shepard, Judge Jane Magnus-Stinson and David Tittle (Bingham Greenebaum Doll). "These are people who are at the top of their profession who work well collaboratively and are really dedicated to mentoring young lawyers."
A memorable case: While pregnant, "and bursting at the seams," Pierson squared off against a Philadelphia lawyer with much more experience in a massive tort case. Afterward, a senior partner said, "Make sure to tell your daughter that when you were nine months pregnant, you went toe-to-toe with one of the best lawyers in the country and you did not flinch." The lesson: "You are better than you think you are. You just don't know it yet."
Givebacks: Pierson served on the boards of multiple charities, including the Leukemia & Lymphoma Society and the Indianapolis Bar Association's Women and Law Division. 
Impactful books and movie: Dave Eggers books "A Heartbreaking Work of Staggering Genius" and "What is the What: The Autobiography of Valentino Achak Deng" and the film "Life Is Beautiful." Why? "I'm a sucker for music and movies that put perspective on life and that emphasize the need to value every single day."
Favorite place in central Indiana: home, or Lake Monroe
Please enable JavaScript to view this content.