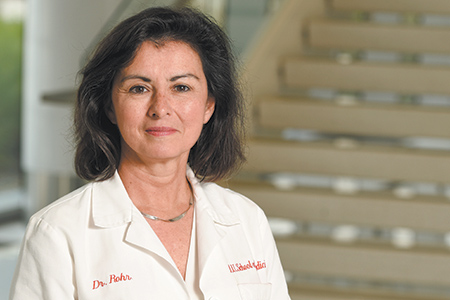 Rohr-Kirchgraber leads centers of excellence at IU Health and Eskenazi with a focus on developing programs for the community that improve health, provide access for services, and advocate for funding and programs. "I seek to empower women physicians and students to reach their full capacity by understanding the unconscious bias that may exist as they look to further their careers," she said.
Rising up: "I honestly didn't think about a career in medicine until college," said Rohr-Kirchgraber, one of eight kids. She worked at McDonald's to save money and studied chemistry at California State University Long Beach because of the low in-state tuition. She dropped the burger job, worked in hospitals, attended Weill Cornell Medicine at Cornell University, and did her internal medicine residency at University Hospital in Cleveland. Soon, she was full-time faculty at Case Western Reserve School of Medicine followed by State University of New York Upstate Medical University, Morehouse School of Medicine, Emory School of Medicine and, for the last 10 years, IU School of Medicine. Her focus is in primary care of adolescents and adults with a special focus on women.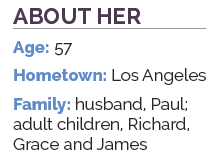 Transitional moment: "Hearing, 'You can't be a mother and a doctor' early in my education was disappointing but not a blow. It served to make me more determined."
Point of pride: "The Center of Excellence in Women's Health was started in the late 1990s when it was recognized that women's health was more than the 'bikini area' and that sex and gender should be a consideration in all medical conditions," she said. "Bringing that education to the community, increasing the funding for the center, providing patient care in a comprehensive manner with primary care, OBGYN, breast and transgender care all in one location, and promoting healthy living, we make a difference for Indiana."
Mentors: "Among them, Dr. Bruce Nichols at Cornell, who would frequently call me out to chat about life, career choices, and being a young, Hispanic girl from California in NYC. 
Givebacks: Rohr-Kirchgraber was the first Hispanic president of the American Medical Women's Association and remains involved with the organization. She's also a board member of Women 4 Change. "I like to be behind the scenes pushing people along."
Inspirational TV show: "'The Mary Tyler Moore Show' was a fabulous way to show that women could be strong, funny, intelligent and successful on their own."
Please enable JavaScript to view this content.