Walthall was on the side of the road with a flat tire when she got a phone call. Her assumption was that it was AAA. But it was actually the chief of staff for Gov. Mike Pence asking if she'd be willing to serve. "That one phone call changed the direction of my career," she said, adding, "Still, I'm not a politician in any way. I'm just a scientist trying to make sure we are doing the right thing for the right reason in designing health care policy."
Rising up: "My pediatrician was my hero," Walthall said. "I used to follow her around her office." Coming from a family of farmers and teachers, "it was a little bit of a leap to think about medicine," she added. But that didn't keep her from getting her bachelor's in biology from the University of Houston, volunteering in hospitals to learn the ropes, then earning her medical degree from the IU School of Medicine. She stayed on at IU as a faculty member
("I kept trying to leave, but every time I looked up, there was something amazing to do.") and picked up a master's in public health from the Richard M. Fairbanks School of Public Health at IUPUI. She was division chief of pediatric emergency medicine at Riley Hospital for Children before serving as deputy health commissioner from 2014 to 2017.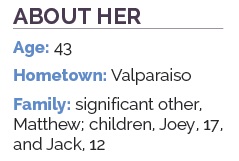 Transitional moment: The Scott County HIV response while she was deputy health commissioner. "It could have been our greatest tragedy as a state. Instead, it became a clarion call to not only Indiana but to the country. When you forget about things you thought you had fixed and don't attend to them, they come back to you. The HIV epidemic was just the tip of the iceberg. … We tried to not just build an infrastructure that would support HIV patients, but at the same time address economic and workforce issues and the opioid epidemic so we might be able to prevent it from happening elsewhere."
Mentor: Dr. Carey Chisholm, IU med school residency director. "He had the notoriety of being the longest-
standing program director in any [emergency medicine] program in the country. Thirty-five years. Nobody does that. He had the uncanny ability to stay at the top of his game while still being everybody's dad."
Givebacks: Walthall serves at the IU Student Outreach Clinic and in the Emergency Medicine Advocacy Training Program, taking pride in "watching these programs sustain themselves." 
Inspirational book: "The River Why," by David James Duncan. Its lesson: "The world is ultimately only made better when people love each other."
Please enable JavaScript to view this content.