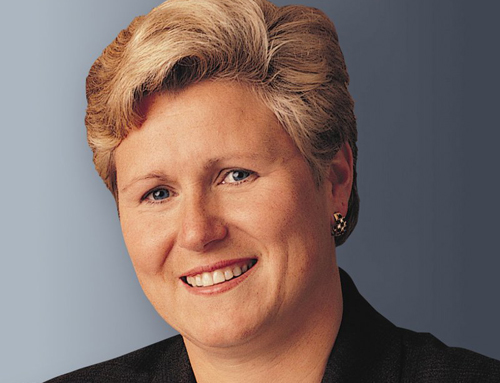 Gail Boudreaux, 57, a regular on Fortune's "50 Most Powerful Women in American Business" before she stepped down as an executive at Minnesota-based UnitedHealth Group in 2014, is sure to return to that list now that she has been appointed CEO of Indianapolis-based Anthem Inc., the nation's second-largest health insurer.
Anthem on Monday morning confirmed the appointment, which is effective Nov. 20. Joseph Swedish, 66, CEO the past four years, will serve as executive chairman until mid-2018, at which time he will become senior adviser to Boudreaux—a role for which he will be paid $4.5 million a year. He's scheduled to give up that advisory post in May 2020.
While women have been rising in other health care leadership roles, they rarely have reached the top echelon at major public companies in the managed-care insurance industry. None of the top 10 publicly traded health insurers currently has a female CEO.
The last high-profile CEO of a major health insurance company was Angela Braly, who served as chief executive of WellPoint (now Anthem) from 2007 to 2012.
Boudreaux came close to reaching the top spot at UnitedHealth Group, where she ran the largest division, UnitedHealthcare, which accounted for the vast majority of its overall company's growth.
She was named one of Fortune's "50 Most Powerful Women in American Business" from 2008 to 2014, reaching as high as No. 25. Boudreaux was long considered a possible successor to UnitedHealth Group CEO Stephen Hemsley, but she left the company in 2014 after an executive shake-up and reorganization left her without expanded duties, The Wall Street Journal said.
UnitedHealthcare's revenue increased 50 percent, to $125 billion, during Boudreaux's tenure.
Boudreaux told Fortune shortly after she left UnitedHealth that she wasn't planning to retire. She started a consulting practice after her departure but wasn't able to join another insurance company until last year because of a two-year noncompete agreement.
Before joining UnitedHealth Group, Boudreaux spent 20 years at Aetna and served as president of Blue Cross/Blue Shield of Illinois.
Ana Gupte, an analyst at Leerink Partners, said she expects Boudreaux to be welcomed by Anthem shareholders.
She "has earned her stripes and credibility with the Wall Street community at Aetna, Blue Cross Blue Shield Illinois, and most notably at United Health," where she was credited with helping to turn around the insurer, Gupte said in a report to clients.
The Chicopee, Massachusetts, native was an exceptional multisport athlete before joining the business world.
As a 6-foot-2 center in basketball, she won three straight Ivy League Player of the Year awards while playing on four straight conference champions at Dartmouth College. She became Dartmouth's all-time leader in scoring and rebounding with 1,933 points and 1,635 rebounds in 89 games.
She also won four straight Ivy League shot put titles in track and field.
She graduated cum laude from Dartmouth College in 1982 with a bachelor's degree in psychology and sociology. She received her MBA in finance and health care administration from Columbia Business School in 1989.
"I look at my sports career and see it as a foundational set of experiences that really guided my thinking, actions and behaviors," Boudreaux told the NCAA.org website last year.
In 2009, Boudreaux told the Minneapolis/St. Paul Business Journal: "Having participated in sports plays a lot into how I do leadership. Business is very much a team market. You learn how to work problems out, improve your performance—that translates into running a business, making goals, making promises and delivering trust."
Please enable JavaScript to view this content.