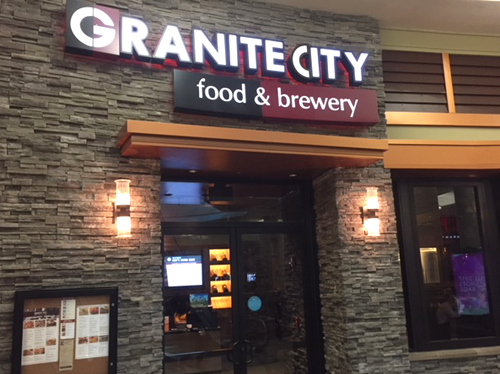 Circle Centre mall has filed suit against the operators of Granite City Food & Brewery, alleging the downtown restaurant has fallen several months behind in rent payments.
The suit, filed Oct. 30 in Marion Superior Court by Circle Centre Mall LLC, claims Granite City Restaurant Operations Inc. owes it $67,652, an amount equal to more than three months in rent.
Granite City occupies 9,000 square feet in the mall at 49 W. Maryland St.
Bloomington, Minnesota-based Granite City signed a 10-year lease at the location in June 2012, agreeing to pay $210,000 in annual rent ($17,500 monthly) during the first five years and $221,445 annually ($18,454 monthly) for the next five.
Granite City's parent company, founded in 1999, operates 32 restaurants in 12 states, including four in Indiana. It opened its first area restaurant in 2009 in Carmel at 150 W. 96th St.
The company recently went through a downsizing with the closures of two Granite City locations in Wichita, Kansas, and another in Madison, Wisconsin.
It also closed its Cadillac Ranch bar and restaurant in Union Station in downtown Indianapolis on Nov. 1, along with Bartini's, an adjoining lounge. The bar had opened in 2009 and the lounge in 2010.
Representatives from Granite City and Circle Centre did not immediately respond to phone messages left by IBJ on Tuesday morning.
Please enable JavaScript to view this content.