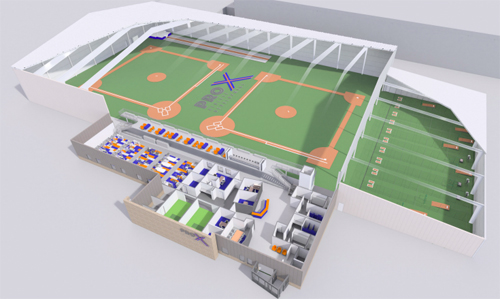 A former Major League Baseball player plans to open a multi-sport training facility at Grand Park Sports Campus in Westfield.
The 65,000-square-foot-plus facility for Pro X Athlete Development would be built directly to the west of the indoor soccer arena known as the Grand Park Events Center on 191st Street.
Joe Thatcher, 36, who spent nine years playing for four different Major League teams, is the founder and owner of Pro X.
The estimated $5.5 million to $6 million facility would feature 44,000 square feet of open turf that could be divided into smaller sections, a 3,000-square-foot state-of-the-art weight room, two rooms with golf simulators, 10 to 12 full-length batting cages, a viewing mezzanine, offices and rehabilitation space.
"The facility itself is going to be something that we're going to be really proud of," said Thatcher, who was a relief pitcher for the San Diego Padres, Arizona Diamondbacks, Los Angeles Angels of Anaheim and Houston Astros in a pro career from 2007 to 2015. "We want to have the 'wow' factor."
Other former professional athletes on staff include former Indianapolis Colts players Daniel Muir and Justin Snow. Muir was a defensive tackle who played with the Colts from 2008 to 2011. Snow was a long-snapper who played in 200 games with the Colts from 2000 to 2011.
Thatcher said the company is also partnering with two organizations that already have a presence at Grand Park—Bullpen Tournaments and Methodist Sports Medicine.
Thatcher, who was born and lives in Kokomo, said the idea for the facility evolved as he tried to train during baseball off-seasons and regularly had to travel to multiple places—one for physical training and another for baseball-specific training.
"We were always talking about why isn't there a place where an athlete can get everything they need in one spot?" said Thatcher, who also played at Indiana State University. "That's really how this concept evolved."
Pro X will be able to accommodate athletes from any sport for physical training or rehabilitation. Sport-specific instruction will be available for baseball, football, golf, and track and field.
"We feel like what we're doing is a perfect complement to Grand Park," Thatcher said.
The property where the facility would be constructed is currently owned by the city of Westfield and had previously been designated for a hotel project. City officials opted to put the hotel plans on hold earlier this year. Thatcher said his group is negotiating terms with the city, but specifics on who will continue to own the land have not been finalized.
He said no public funding is necessary for the project.
The project is expected to be discussed at the Westfield City Council meeting Monday night.
The target opening date is Sept. 1. In the meantime, Pro X has opened an 11,00-square-foot temporary facility at 733 E. Main St. in Westfield.
"We thought it was important to get going and get our brand out there," Thatcher said.
When completed, the new facility will be geared toward a wide range of athletes from those participating in youth sports to professionals. Pro X will offer individual and family memberships, camps, clinics, small group and individual instruction, and team rental options.
"We'll have a lot of different options for people to utilize our resources," Thatcher said.
Please enable JavaScript to view this content.