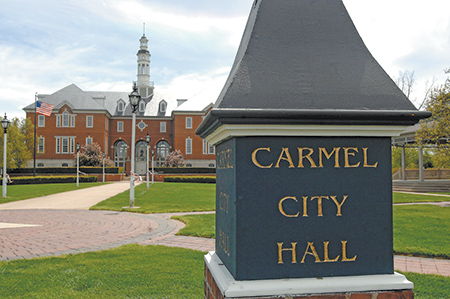 Standard & Poor's has downgraded the city of Carmel's debt rating, saying the suburb is "vulnerable to unanticipated economic or operating swings" given its growing debt levels.
In a press release issued Tuesday, the credit rating agency announced it lowered its long-term rating for Carmel by one notch from AA+ (the second-highest rating) to AA. S&P also lowered the city's rating for a set of 2016 bonds from A+ to A.
"The downgrade reflects our view of the city's rapidly increasing debt burden, with mounting leverage that can pressure flexibility and budgetary performance over time," S&P Global Ratings credit analyst Anna Uboytseva said in a media statement.
The report from S&P notes that Carmel's debt grew, in real terms, more than $300 million in three years, and its debt costs are estimated to grow 71 percent by 2022.
Earlier this year, the Carmel City Council tacked on more debt to its tally, approving $96 million in two bond packages to fund a hotel at City Center, a variety of street, path and infrastructure improvements, and land acquisition.
Carmel's total liability—including principal, interest and other debt payments—has swelled to $1.2 billion, according to the Department of Local Government Finance. City officials, however, disagree with that figure. The city says its outstanding debt obligation is about $880 million, and that the DLGF information is not up to date.
Carmel Mayor Jim Brainard argues the spending has gone toward worthy investments that have improved the suburb of about 91,000 residents. A recent study from the Indiana University Public Policy Institute concluded that Carmel's use of public dollars has generated economic activity, jobs and additional investment that might not have occurred otherwise.
Carmel had been given a AA+ rating from S&P as recently as June, despite its increasing debt load, because the rating agency believed the suburb had enough revenue to handle the burden.
"Thus far, the city has been able to afford its debt, paying debt service mostly with tax increment revenues and local income taxes," according to the report issued Tuesday.
But the agency now cites an issue from 2015 when the Carmel City Council had to borrow $5.4 million from the Carmel Redevelopment Commission, which receives its revenue from tax increment financing districts, to cover a debt payment at the end of the year. The city then repaid the CRC in 2016 with money from the general fund.
"In the future, if intended economically sensitive revenues do not perform well, it will be challenging for the city to divert that much operating revenue from the general fund for debt service," the report stated. "Furthermore, the city doesn't have a high reserve cushion, relative to the size of annual debt service, to carry it through extended stressful periods."
Carmel officials are not fazed by the downgrade. Brainard described the AA rating as "very good" for any city or private business and cautioned that ratings regularly fluctuate.
"It is important to remember that we are a growing city and we are investing in our local infrastructure, such as adding trails, roundabouts, better storm drainage, and high-quality water to improve the quality of life of our residents," Brainard said in a prepared statement. "Bond ratings are all about revenue versus expenses. We could always raise our taxes and raise more revenues, but we have chosen not to."
The city also noted that its reserve fund has a balance of $8.3 million, which officials believe is adequate.
"It's not good fiscal practice to horde taxpayers' money. We have adequate balances to carry us through a recession," Brainard said. "It would be easy to raise taxes to get a perfect rating. That might make the rating agency happy, but that is not in the best interest of our taxpayers."
Please enable JavaScript to view this content.