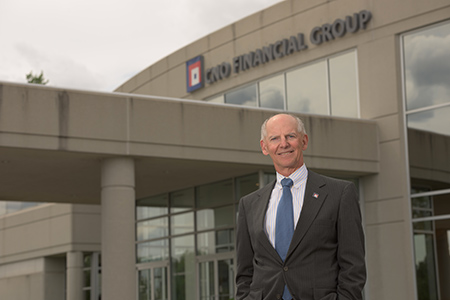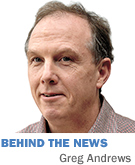 As CNO Financial Group CEO Ed Bonach prepares to retire at year-end, he's receiving lots of toasts for his accomplishments at the company, which he brought back from the brink following a financial crisis and put on solid footing.
But perhaps overlooked is the difference he made in the broader community after moving to Carmel in 2007 to become chief financial officer of the company, which then was known as Conseco Inc. and had suffered years of ups and downs after its 2002 bankruptcy.
Bonach, 63, is an old-school community-service guy. So after relocating here from Vermont, he immediately set out to find organizations to support—along the way making connections with key community leaders to reassure them about the company's future and make himself accessible.
As Bonach puts it, "What goes around comes around. You give back to the community, and the community gives back to you."
He rolled up his sleeves and jumped in, primarily targeting organizations focused on youth education and leadership development. Today, he serves on the board and executive committee of the Indiana Sports Corp. and Indy Chamber. He's also a board member of Marian University and board president of the Boy Scouts of America Crossroads of America Council.
"Ed is fantastic," said Patrick Sterrett, who stepped down this month as Crossroads of America Council scout executive to accept a national Boy Scouts post. "He is just a super-passionate, energetic volunteer and helped us create a real vision for our council."
Specific accomplishments included helping launch the Growing Future Leaders capital campaign, which is in its quiet phase, adding gender and ethnic diversity to the board, and using the CNO Indy Monumental Marathon as a pipeline for shoe donations to the Boy Scouts' Soles 4 Souls program for needy children.
CNO brass in recent years weren't always so intertwined in the community. In fact, Bonach, who was promoted to CEO in 2011, is the company's first top executive to live in central Indiana since the board ousted co-founder Steve Hilbert way back in 2000.
When Bonach landed the top job, his board gave him the option of living in Chicago, where his predecessor, Jim Prieur, was based, but he opted to remain in Carmel, the company's headquarters. Carmel has about 1,300 CNO workers, compared with Chicago's 500. (Bonach's successor, current President Gary Bhojwani, will be based in Chicago, where he has family ties, though he will have a Carmel office.)
Bonach said his decision to become a community leader in central Indiana was partly about sending a message to the company's beaten-down workforce that "you don't have to hang your head about being part of this company. We are doing a lot of good things, and we will be doing more of them."
Asked to highlight achievements during his decade with CNO, Bonach said: "I'm proudest you see people that did weather some of our darkest times and now walk with their heads held high and a skip in their step. They are proud of being part of the company."
The underpinning of the morale boost was the stabilization of CNO's finances after the Great Recession nearly did it in, knocking the insurer's share price as low as 26 cents in March 2009.
The company, which offers health and life insurance targeting middle-income Americans, soothed rattled investors by lining up an infusion from high-profile hedge fund manager John Paulson, whose firm scooped up $200 million in convertible debt and $150 million in common stock.
In the years that followed, CNO steadily fortified its financial position by increasing the reliability of earnings and offloading certain policies written under prior management that exposed it to undue risk. The strategy won over investors, who've pushed the stock above $24.
Bonach's work at CNO might be done, but not his local community service. He plans to remain on the Boy Scouts and Marian University boards, and the Sports Corp. is talking with him about staying involved there as well.
He and his wife of 40 years, Peggy, plan to keep their Carmel home for now but plan to primarily reside in Minnesota, where nearly all their family lives.
While Bonach will be remembered for boosting CNO's role as a central Indiana corporate citizen, he'll remember the community for its unusual commitment to servant leadership—a tradition that helped make possible the city's amateur-sports movement, the revival of downtown and other efforts.
While Bonach wanted to become involved, it's also an expectation here.
"From both sides, there was push and there was pull," he said.•
Please enable JavaScript to view this content.