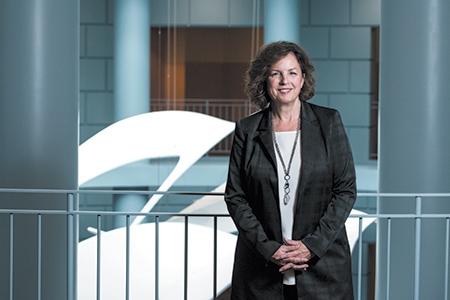 Chief Operating Officer
St. Vincent Indiana
In 2015, Harmon was recruited to serve as chief financial officer for St. Vincent Indiana, whose 20 hospitals and network of affiliated joint ventures, medical practices and clinics serve central and southern Indiana, employing more than 15,000. Unlike others entering the C-suite (who traditionally come from accounting or finance), Harmon—now COO—arrived with a background in health information management and data analysis. "No matter what I did," she said, "it was always data-driven decision making, using that as a launching place for how to fix issues that come up and to identify opportunities."
Education: Harmon's initial plan was to become a physical therapist. That changed when she discovered the University of Wisconsin's bachelor's in health information management, which proved a better fit for her analytical interests. Later, she earned her MBA from the University of Texas at Austin.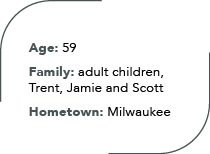 Career path: Harmon worked as a coder for an ambulance service in her hometown. Management roles at the Milwaukee County Medical Complex followed. A cold call from a recruiter led her to St. Mary's Health Network in Reno, Nevada. During her 17 years there, she discovered her passion for data analysis, earning her MBA by commuting from Reno to Austin while maintaining her full-time job. Impressed, St. Mary's named her CFO. In 2001, she was recruited to Provena Health in Illinois, then to Porter Memorial Hospital in Valparaiso.
Major achievements during her tenure: Implemented initiatives to improve projection capabilities, including daily indicators of performance and tools with linkages to action plans for closing financial gaps. Projections, though, remain an ongoing challenge in health care. "It's becoming harder," she said. "You don't know what's going to happen next year or the next six months with the regulatory environment … . You do a budget usually three months before the budget cycle and sometimes before the cycle starts, the budget is almost irrelevant because so much has changed … .
Our biggest concern is making sure people can continue to access health care." 
Recent business challenge: Changes in regulations, reimbursement, accountable care, etc., at local and national levels, which "require multiple perspectives and the input of stakeholders across our care continuum," Harmon said. Among her efforts: creating "work groups that represent various levels of leadership and that represent the diverse types of ministries across the statewide system. The groups have been given specific priorities and have developed solutions aimed at sustained service to all persons, especially the poor and vulnerable, and improving the health of the populations we serve while adapting to the multiple changes that are occurring."   
Unique challenges in health care: "In recent years, many CFOs—especially those in the health care field—have had to evolve their mind-set from a transactional one of tracking expenses and balancing budgets to one that also approaches such matters strategically … incorporating insights from different industries along with data analysis and predictive planning models to help determine how best to allocate limited resources and maintain sustainability when the horizon shows a significant increase in anticipated expenses, market disruptions and severe reductions in reimbursement and funding sources."
Givebacks: Harmon serves on the board of the Center for the Performing Arts and volunteers with Second Helpings. In addition to all the obvious benefits, she said, "doing kitchen prep once a month helps with my knife skills."
Downtime: "Getting time with family is not always easy since they live in different states, but I relish the time I get with them."•
Check out more CFO honorees.
Please enable JavaScript to view this content.