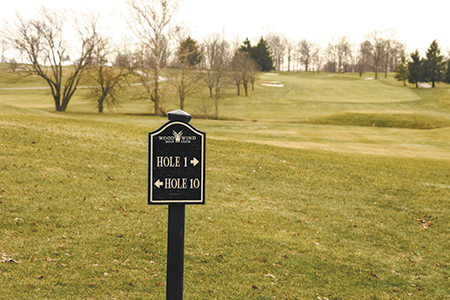 Westfield residents want to keep the city's only public golf course open, but so far, any project that could do so hasn't been able to tee off.
A third developer is now taking a swing at winning approval to build homes at or around Wood Wind Golf Club, but it's already facing opposition.
Paul Rioux, owner of Platinum Properties Management Co. LLC, has filed plans for a housing development that would surround the course at Towne Road and West 161st Street. His proposal would include 360 homes on 309 acres, with home prices ranging from the high $300,000s to more than $500,000.
He follows two failed proposals: In May, the Westfield City Council turned down a plan from Pulte Homes that would have built more than 850 homes around the golf course. In 2015, developer George Sweet never moved forward with his plan to replace the golf course with 315 homes, after he received negative feedback from council members.
Rioux said his proposal is a "whole different approach" from the first two because it keeps the golf course but includes far fewer homes than the Pulte plan.
"The Pulte deal was three times larger," he said. "It would have been one of the largest developments approved in Westfield, ever."
But if the early meetings are any indication, Rioux still faces an uphill battle.
More than a dozen residents spoke against the proposal during a public hearing at the Dec. 4 Westfield Plan Commission meeting, and several commissioners also voiced concerns.
"I'm surprised this didn't come in trying to knock our socks off," Plan Commission member Ginny Kelleher said at the Dec. 4 meeting.
And after spending nearly a year working with Pulte to find a suitable compromise, city officials don't seem eager to spend much time trying to fix the proposal from Rioux.
"I'm not going to go through what we went through before," Kelleher said.
What hasn't worked
The future of Wood Wind Golf Club has been up in the air for years as its owners have pursued sale options, but the course's management team has fought to keep it open. The golf course, at 2302 W. 161st St., is open to the public for a daily fee and offers annual memberships. It opened in 1990 and was designed by Ron Kern and Gary Kern.
Cohoat and O'Neal Management Corp., which has operated the club for seven years, has argued that a subdivision adjacent to the property could significantly help the operation. The homes would provide a supply of customers, while the course would remain open to the public.
"People like to play in their neighborhood," Cohoat and O'Neal Management principal Matt Cohoat said. "The more rooftops and residences nearby just gives a sense of community, a sense of pride and a convenience to play."
But the first development plan proposed by Sweet in March 2015 actually would have eliminated the course, which upset nearby residents.
Council members were uneasy about the density in Sweet's proposal and also urged him to work with neighbors, who had created a Facebook page and online petition opposing the project.
The councilors told Sweet to return once he had made some changes to his plan, but he never did. Sweet, CEO of Brenwick Development Co., did not respond to IBJ's request for comment. Brenwick was not involved in the project.
In September 2015, Cohoat and O'Neal Management announced it would have to close the course by the end of the year. The company said its lease with RN Thompson to manage the property had not been renewed for 2016.
But two months later, plans had changed. Cohoat and O'Neal Management announced that the golf course would stay open in 2016 as they worked with RN Thompson to find a long-term solution.
In February 2016, Pulte Homes announced it would acquire the property, but no details were shared until August that year, when Pulte filed its development plans with the city.
As initially proposed, the nearly 800-acre neighborhood would have included more than 1,000 single-family houses, amenities like tennis courts and swimming pools, multifamily housing, and a small section of commercial use.
But Plan Commission members and nearby residents worried the proposal would increase traffic, had inadequate architectural standards, and that the commercial uses would be unfavorable to the area. They also were concerned about the impact on the school district, which already has resorted to referendums to generate more funding to handle growth.
Pulte spent months working on revisions, and this February, the Plan Commission split 4-4 on whether to support the project. That sent it to the City Council without a recommendation.
Later that month, the council sent the project back to the Plan Commission with the hope of getting a recommendation with all nine members at a meeting.
Pulte continued to revise the project and, when it returned to the Plan Commission in April, had reduced the number of homes to 856 and decreased the overall size to 700 acres. The multifamily housing and commercial elements were removed.
The changes were enough to sway the advisory board, and it sent a positive recommendation to the council. But they weren't enough for the councilors, who denied Pulte's rezoning request.
In a statement to the media, City Council President Jim Ake said then that "many of us on the council felt that moving forward with this development would not be representative of what our constituents want."
David Compton, vice president of land acquisition for Pulte Homes, declined to comment for this article.
Now comes Rioux, who said, in hindsight, maybe he should have waited a year or two to introduce his proposal. But he said "waiting a year or two might have meant there was no golf course."
"A golf course … once it's gone, it's gone," he said. "You can't take a year off."
Neighborhood power
Again this time, neighbors and Plan Commission members aren't thrilled with the proposal. "This is not any better. In fact, it looks worse," Plan Commission member Robert Smith said at the Dec. 4 meeting.
Nearby resident Kristen Burkman said the neighborhood's biggest concern is keeping the golf course open or preserving the area as green space.
"The first one eliminated the golf course altogether," Burkman said. "The second one did deed-restrict the golf course, but had so many houses connected to it that it was going to be a burden on the community … . The third one doesn't guarantee the golf course, which is the major problem."
Rioux said he's working with the city to add language to the zoning ordinance that should guarantee the course remains as is or as another type of green space amenity.
"I don't see that as being much of a stumbling block at all," he said. "It won't be housing."
But one part of the golf course is likely to be eliminated—the driving range would close as part of this plan—and that has concerned neighbors and city officials, too. "That's a big red flag," Kelleher said at the Dec. 4 meeting.
Cohoat said the practice and teaching that previously took place on the driving range will just be moved to a different area on the property, and the programs they offer will actually be enhanced.
"We will be investing in the technology that everybody is using today," Cohoat said. "The current driving range is inefficient. It's much, much, much larger than it needs to be."
Kelleher said she's also worried about the lack of other amenities within the subdivision, like a pool or clubhouse.
Burkman said she and others also are worried about the burden on already-crowded schools.
According to data Pulte provided last year, more than 1,300 homes were under construction or development on the west side of Westfield. On top of that, more than 2,100 homes had received zoning approval from the city.
Neighbors have suggested the homes at Wood Wind be built at higher price points to bring in more tax revenue or be custom.
"There's plenty of inventory for people wanting to move to Westfield at this point," Burkman said.
Rioux dismissed concerns about the need for higher prices or custom homes as excuses to be opposed to any project.
"It's all really the same thing as saying, 'We just wish you'd go away,'" Rioux said. "There's neighbors out there that have the opinion that the whole area should stay undeveloped."
But Burkman said she thinks parties can come to a compromise.
"The benefits of having a golf course in your community are huge, so the community has said, 'We would love to keep this golf course, but it can't be at the expense of our children,'" Burkman said. "I think there's really a great solution with creativity and cooperation."•
Please enable JavaScript to view this content.