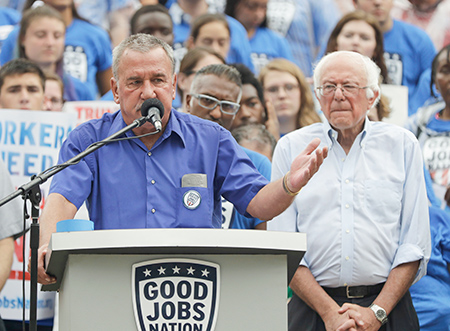 As Rexnord Corp. and Carrier Corp. laid off hundreds of workers at their Indianapolis facilities this year, the union representing most of those employees saw some turnover of its own.
Chuck Jones, who had been president of United Steel Workers Local 1999 since 1996 and vice president for 11 years before that, retired last summer at age 65.
Carrier and Rexnord both announced in 2016 that they planned to shut down some or all of their Indiana operations, moving that production work to Mexico.
In November 2016, when Rexnord announced it would close its Indianapolis industrial bearings plant, the facility had about 350 workers. The facility closed in September.
Carrier announced in February 2016 that it planned to move all its Indianapolis production work to Mexico, while keeping 169 research and corporate positions in place here.
After then-President-elect Donald Trump contacted Carrier and asked it to reconsider, the company announced in November 2016 it would keep some production jobs in Indianapolis after all.
Trump used the opportunity to stage a rally at Carrier in December 2016. At that event, Trump said Carrier's change of heart would save 1,100 jobs, but the number was actually closer to 800.
Jones took issue with the inaccuracy, telling reporters Trump had lied about the job numbers. In response, Trump used Twitter to call out Jones by name, saying in one tweet that the union leader had done "a terrible job representing workers."
Jones told The Associated Press in July that Trump's response did not bother him. As a retirement gift, the union leader received a framed image of Trump and his tweets about Jones, AP said.
As for post-retirement plans, Jones told IBJ he was considering running for public office.•
Please enable JavaScript to view this content.