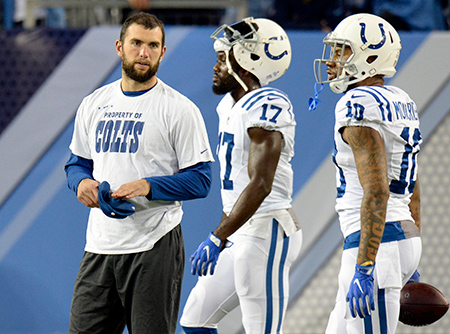 It's been a tough year for Indianapolis Colts quarterback Andrew Luck. And by extension, it's been a tough year for the Indianapolis Colts, who lost seven of their first 10 games and have seen fan interest wane greatly.
The 2012 No. 1 overall draft pick had surgery on his right shoulder in January and was expected to be ready for the start of the season in September.
In fact, over the summer, Colts owner Jim Irsay assured the team's fans the star quarterback—one of the highest-paid players in the NFL—would be ready for the team's Sept. 10 opener against the Los Angeles Rams.
But Luck, who is due to make $140 million under his current six-year contract through 2021, wasn't able to practice or even throw a football until early October.
And within two weeks of starting to throw the ball, he was shut down for the year when his shoulder started hurting and a cortisone shot didn't help. He didn't take a single snap in a practice, let alone a game.
Vexed by the situation, Luck quietly flew to Europe for treatment, though it was never made clear exactly what treatment he flew 4,200 miles to receive. The exact location of Luck's treatment wasn't even disclosed.
And there is still no timeline on Luck's injury, as rumors have begun to swirl that the quarterback is unhappy with the Colts medical team and wants out of Indianapolis. Luck has denied that.
Nevertheless, his injury and the team's poor performance have put tremendous pressure on first-year General Manager Chris Ballard and team owner Jim Irsay.
The Colts have been pressured to improve the team's medical staff and communication among the medical staff, team executives and Irsay. The team is also under pressure to improve its offensive line so that, if and when Luck returns, he doesn't take the beating he did his first five years.
Pressure is also building to fire Coach Chuck Pagano. The previous two seasons, the team went 8-8 and missed the playoffs. It's looking like this year won't be that good. No one missed Luck more than Pagano, and it could cost him his job.
Luck, his advisors and agent said, is not seeking a second surgery, but instead will continue to work on therapy and rehabilitation.•
Please enable JavaScript to view this content.