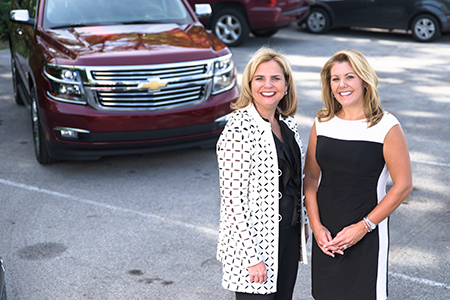 After six generations of family ownership, Indiana's largest Chevrolet dealership—known for its "Sisters of Savings" radio ads—in January sold to a Georgia-based publicly traded company.
Asbury Automotive Group Inc. agreed to buy Hare Chevrolet in Noblesville as well as its sister companies—an Isuzu dealership, collision center and a truck center that works on fire engines, ambulances and other commercial trucks.
The name of the dealership is unchanged.
Terms of the deal were not disclosed, and many Hare Chevrolet employees remained after the sale.
Hare Chevrolet had been operated by the same family dating back nearly 170 years, when it dealt in wagons and buggies. Automobiles were added to the lineup in 1912.
More recently, Hare Chevrolet has become known for its female owners—sisters Monica Peck and Courtney Cole—a rarity in the auto dealership business, as well as for their ubiquitous radio commercials featuring the Sisters of Savings.
In 2016, the sisters told IBJ they knew some listeners find the commercials annoying but that they are highly effective. And they won't be going away.
Peck and Cole signed a deal to continue doing the radio ads through 2021.
"The advertising is very strong and has given the dealership tremendous brand recognition," Cole said, "and they wanted to continue that."•
Please enable JavaScript to view this content.