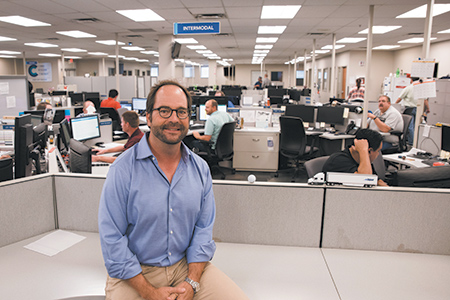 Indianapolis-based trucking company Celadon Group Inc. replaced its CEO in July, bringing in Paul Svindland as part of a larger effort to address its multiple financial and accounting problems.
In May, Celadon disclosed that its auditor, BKD LLP, had raised questions about a complicated joint-venture arrangement involving the sale of leased equipment. As a result, Celadon said its past 18 months of financial statements should not be relied upon, and its board hired outside firms to review the statements.
Celadon said it expected to post a $10 million loss for the quarter ending in March 2017, though it also said it did not expect to post any audited financial statements by the end of 2017 because of the financial inquiry.
In October, Celadon confirmed that it was under investigation by the U.S. Securities and Exchange Commission.
Svindland, who was brought in to replace CEO Paul Will, was one of several new executives and board members who have joined the company since May.
Svindland has experience as a turnaround expert in the transportation industry, and since his arrival, Celadon has taken several major steps to improve its financial situation.
The company halted construction on a $28 million headquarters in Mount Comfort, putting that property up for sale and deciding instead to stay put at its East 33rd Street location.
In another cost-cutting measure, Celadon began the process of outsourcing the operations of its driver-training schools in Indianapolis, Texas and Virginia.
The company also sold its flatbed trucking division and announced it would dramatically scale back its truck leasing business.
All the changes were part of a "back-to-basics" strategy of refocusing on Celadon's core trucking business, which had suffered in recent years as the company pursued new lines of business.
"We were trying to be unique and a leader, which is a great thing in a lot of ways," President and Chief Operating Officer Jon Russell told IBJ in October. "But if it doesn't work, it can leave you in a challenging situation, and that's what happened."
Please enable JavaScript to view this content.