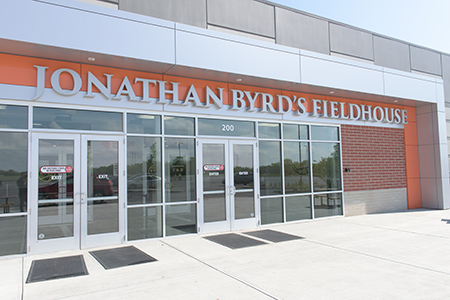 After two years of laying the groundwork for a major presence at Westfield's Grand Park Sports Campus, Jonathan Byrd's stopped doing business at the youth-sports complex at the end of January.
From 2015 to 2016, the company, which does business with a variety of names under the umbrella of Byrd Enterprises of AZ Inc., had a restaurant in two different indoor facilities at the park, pursued a hotel development, and managed events at the indoor soccer complex through a partnership with LST Marketing. 
But Jonathan Byrd's struggled to find success at the park and the family-operated business. The city of Westfield evicted the company from the Grand Park Events Center in January after it missed several rent payments—ending its 10-year agreement after less than seven months.
Jonathan Byrd's decided to remove itself completely after that, saying if it couldn't pursue the full-scale hospitality operation it wanted at Grand Park, it didn't want to be invested there at all. Both restaurants are no longer managed by Jonathan Byrd's, the hotel project never got started, and LST Marketing is handling the event management on its own.•
Please enable JavaScript to view this content.