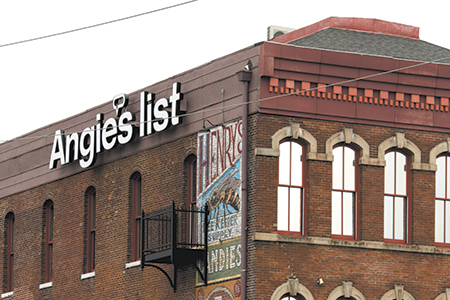 Colorado-based ANGI Homeservices Inc. debuted on Oct. 2, completing New York-based IAC's $505 million acquisition of Angie's List, which it then merged with its HomeAdvisor brand into the new publicly traded company.
The Angie's List brand survived the merger (as did the HomeAdvisor brand), although the Indianapolis operation suffered deep cuts. From January through the end of September, roughly 550 employees either left Angie's List voluntarily or were laid off. ANGI Homeservices planned to lay off another 230 people this fall.
In October, Angie's List had about 1,000 employees, down from 2,100 in 2014.
Also in October, ANGI Homeservices listed for sale the entire Angie's List corporate campus, a 17.5-acre property that helped revitalize a section of Indianapolis just east of downtown.
ANGI accepted bids in November on the campus, which is headquartered at 1030 E. Washington St. and is made up of 41 parcels with 25 buildings, 1,000 parking spaces and 190,000 square feet of office space. Among the bidders was Angie's List co-founder and former CEO Bill Oesterle, who put together an investment group that also included IBJ co-owners Nate Feltman and Mickey Maurer.
"It would be great to get some real retail along Washington Street," Oesterle told IBJ. "It's great creative space for entrepreneurial companies and not-for-profits. There's a little bit for everybody."
Oesterle stepped down as CEO of Angie's List in July 2015. He co-founded the company in 1995 with other investors and led it through an initial public offering in 2011.
In 2000, Angie's List began renting the east-side buildings and lots. In November 2012, while adding 500 employees to the roughly 1,000 it already had, Angie's List decided to purchase those parcels—about 40—for $6.25 million.
ANGI officials have said they hope to announce a buyer in mid-2018.
For now, Angie's List and HomeAdvisor maintain separate operations in Indianapolis. HomeAdvisor is at 1 Virginia Ave.
ANGI CEO Chris Terrill told IBJ this fall that his vision is for the two brands to eventually occupy the same office space.
Please enable JavaScript to view this content.