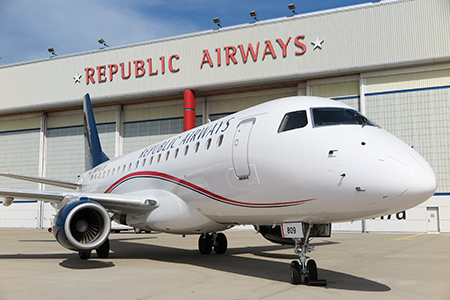 Indianapolis-based Republic Airways Holdings Inc. emerged from bankruptcy in April as a more streamlined version of its pre-bankruptcy self.
When it filed for Chapter 11 protection in February 2016, Republic said it didn't have enough pilots to fly its contracted routes for American Airlines Group Inc., Delta Air Lines Inc. or United Airlines Inc. In response, Republic cut back its schedule, which reduced its revenue and put it at odds with those mainline carriers.
After entering bankruptcy, Republic worked to trim its fleet size and flight schedule.
At the end of 2015, Republic's daily schedule included 1,100 flights and its fleet included 242 planes. By the time it exited bankruptcy, Republic had trimmed its fleet to 170 aircraft, with another 18 planes set for delivery by year's end. It trimmed its daily schedule to 900 flights.
Another change: Republic, which had previously been publicly traded, emerged from bankruptcy as a privately held company.
The reorganized company is owned by its former creditors, which include America, Delta, Embraer S.A. and United, along with hedge funds and individual claimants.
Matt Koscal, Republic's chief administrative officer, told IBJ in July that the airline wants to return to its publicly traded status at some point.•
Please enable JavaScript to view this content.