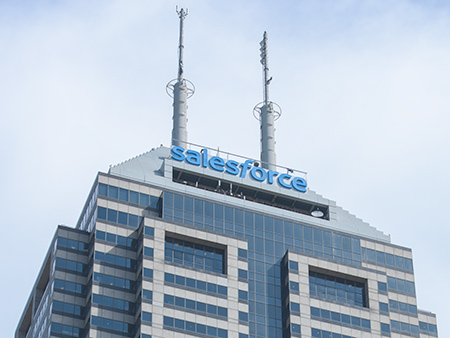 Salesforce.com Inc. made it official in May, hosting a grand opening of the newly christened Salesforce Tower—formerly Chase Tower—where it will eventually occupy 11 of the building's 48 stories.
Salesforce had put its name and logo on the tower weeks earlier in April, after announcing a year before that it would add 800 workers in the city by 2021. The expansion makes Indianapolis the company's largest operation outside its global headquarters in San Francisco.
Moving to the tower, which was purchased for $162 million by Santa Monica, California-based Hertz Investment Group in 2016, consolidates Salesforce operations that had been spread among several downtown buildings.
The skyscraper, developed by Columbus, Ohio-based Galbreath Co., opened in 1990. It originally was known as the Bank One Tower, but took the Chase moniker after the New York-based financial giant acquired Chicago-based Bank One Corp. in 2004.•
Please enable JavaScript to view this content.