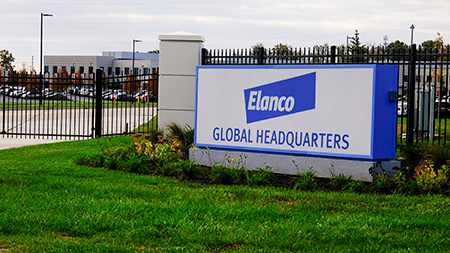 Eli Lilly and Co. threw the future of its 64-year-old Elanco animal health business up in the air this fall, announcing it was reviewing whether to sell or spin off the division, which employs 6,500 people, including 800 at its Greenfield headquarters.
The announcement came Oct. 12, following a bumpy year for Elanco, which makes a vast array of vaccines, antibiotics, feed additives and other health products for livestock and pets. Elanco has seen sales edge down 1 percent in the first nine months of 2017, to $2.29 billion.
The downturn came just as Lilly was expecting a big boost in sales and profit from Elanco, following its $5.4 billion purchase of Novartis' animal health division in 2015.
Instead, competitors including Zoetis and Bayer have taken market share. The Indianapolis-based drugmaker said the setbacks were due to stiffer competition, aggressive pricing by rivals and other factors.
Lilly launched the unit in 1953 to produce antibiotics for livestock and over the years expanded it to a wide variety of health products for companion animals and food animals.
The drugmaker said it will make a decision no later than mid-2018.
As a stand-alone company, Elanco would be the 12th-largest public company in Indiana, with 2016 revenue of $3.16 billion. That would put it ahead of Vectren Corp., Allison Transmission, Finish Line, Republic Airways and Duke Realty Corp.•
Please enable JavaScript to view this content.