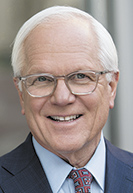 Swedish
After a tumultuous year, Anthem Inc. announced that Joseph Swedish would step down as CEO and be succeeded on Nov. 20 by former UnitedHealth Group executive Gail Boudreaux.
The move followed the collapse of Swedish's two-year effort to buy rival insurer Cigna Corp. for $48 billion, after a federal judge blocked the deal on antitrust grounds.
It also came on the heels of Anthem's announcing it would set up its own pharmacy benefits management unit, signaling a final break with Express Scripts Holding Co. after the health insurer accused Express of overcharging it by billions of dollars.
Swedish will continue to serve as executive chairman until mid-2018, at which time he will become senior adviser to Boudreaux—a role for which he will be paid $4.5 million a year. He'll continue as Boudreaux's adviser until May 2020.
Boudreaux, 57, has been a consultant since 2014, when she stepped down as CEO of UnitedHealthcare, the biggest unit of Minnesota-based UnitedHealth Group, the nation's largest health insurer.
Under Swedish, who joined Anthem in February 2013, the insurer's share price roughly tripled, operating revenue rose 39 percent, and the company exceeded consensus earnings expectations every year.•
Please enable JavaScript to view this content.