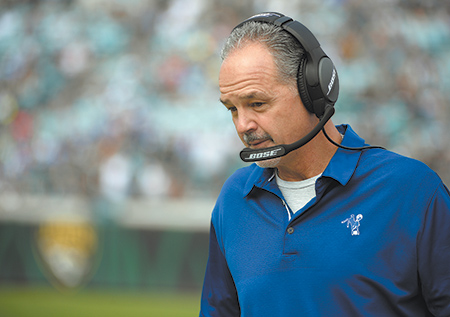 Coach Chuck Pagano was fired Sunday afternoon shortly after he led the Indianapolis Colts to a 22-13 victory over the Houston Texans in the season finale for both teams, the Colts announced.
"We have parted ways with Head Coach Chuck Pagano," the team said on Twitter.
The victory ended the longest losing streak of Pagano's six seasons, but the Colts finished 4-12 and missed the playoffs for the third consecutive season. It is the team's longest postseason drought since a seven-season absence from 1988-94.
Pagano had two years left on his contract.
Pagano finished with a 56-46 overall record (including the postseason) after joining the team in 2012. From 2012-14, he led the team to three consecutive 11-5 seasons and playoff appearances, including a trip to the AFC Championship at the end of the 2014 campaign.
With star quarterback Andrew Luck missing the entire 2017 season, the Colts wound up with their first losing season since 2011, their second since 2002, and the first under Pagano.
"Chuck Pagano provided Colts fans with many exciting wins and memories as head coach of the Colts," Colts Owner & CEO Jim Irsay said in written comments. "Throughout his tenure in Indianapolis, he impacted the lives of the players he coached, those who he worked with in the organization and Colts fans across the globe.
"Chuck's first season was one of the more inspirational stories in NFL history as he courageously battled and overcame leukemia. As a result, his ChuckStrong Foundation has raised millions for cancer research. We are thankful for Chuck's contributions to our franchise and community and we wish him, Tina and the entire Pagano family nothing but the best moving forward."
Almost from the moment the Colts were eliminated from playoff contention, speculation ramped up about Pagano's ouster being only a matter of time.
Even Pagano hinted at the move Wednesday when he referred to Sunday's game as the "last rodeo."
And before his postgame meeting with Irsay, Pagano sounded more resigned to his fate than he did either of the last two years when his job status also was tenuous.
"Call me crazy, but I'm a believer to the core. You know, I don't know what tomorrow brings. I don't know what the next hour brings," Pagano said. "But I do know I'm very grateful to Jim Irsay and to the Irsay family. His unwavering commitment is second to none in football, and he's given us everything we needed to be successful. And I'm very grateful for the opportunity he gave me."
Pagano wasn't entirely at fault for this season's results.
The early successes and steady decline during Pagano's tenure coincided perfectly tandem with Luck's health.
When Luck started every game during his first three seasons, the Colts won 11 games each year, reached the playoffs three times and advanced one step deeper in the postseason each year.
When the injuries struck, Indy crashed. The three-time Pro Bowl quarterback missed 26 of 48 games since 2015, and the result was consecutive 8-8 finishes before this season's 4-12 debacle during which Luck never took a snap.
But to an owner who has grown accustomed to playing games deep into January, Luck's absence wasn't enough of a reason to give Pagano yet another chance—especially after essentially putting Pagano on notice last January that he expected a playoff appearance after firing general manager Ryan Grigson.
"He (Irsay) is like all of us. He wants to win," Pagano said in October after the Colts were shut out for the first time since 1993.
It wasn't just the playoff absences.
Fans became increasingly disgruntled with a long-promised defensive turnaround that never happened, a series of questionable play calls, and persistent penalties.
As the 2017 season wore on, the shrinking home crowds became a gauge of fan sentiment.
But there were plenty of good moments, too.
The 57-year-old Colorado native presided over one of the greatest single-season turnarounds in league history in 2012, turning a 2-14 team that was supposed to be the NFL's worst into an instant playoff contender while waging a courageous public battle against leukemia. When Pagano missed 12 games to undergo chemotherapy, the tag-team coaching tandem of Pagano and offensive coordinator Bruce Arians delivered a nine-game improvement before losing to eventual world champion Baltimore in the wild-card round.
Arians was voted AP Coach of the Year.
Pagano went on to win AFC South titles in 2013 and 2014 and led Indy to the AFC title game following the 2014 season.
He finished with a solid record of 56-46, 3-3 in the postseason.
For the most part, Indy dominated inside the division, going 25-11 while setting an NFL record with 16 straight wins over division foes.
But the rest of the league exposed Indy's flaws and Pagano's teams lost 22 times by at least two touchdowns.
The unraveling began in 2015 when many thought the Colts could make a Super Bowl run and Luck first got hurt.
Forty-year-old backup quarterback Matt Hasselbeck filled in admirably for Luck, who missed nine games with injuries. Hasselbeck went 5-3 as the starter and somehow the Colts managed to finish 8-8.
After the season, Irsay gave Pagano a second chance and a four-year contract extension. But with Luck starting 15 of 16 games, the Colts posted another 8-8 mark.
A third bad season was just too much to keep the player's coach around.
Many talked about their reverence for Pagano and how he did important things, like showing up to weddings other coaches did not. At times, it made a difference on the field.
The first game Pagano missed after being diagnosed with leukemia, receiver Reggie Wayne risked an NFL fine by wearing orange gloves, the color associated with leukemia awareness, and almost single-handedly willing the Colts to a come-from-behind win over Green Bay.
When Pagano returned for the regular-season finale, Houston running back Arian Foster honored the Colts coach by tapping the "Chuckstrong" sign after scoring a touchdown.
"He always fights for you, he's a player's coach. You dream of playing for a coach like that," receiver T.Y. Hilton said. "He's a very emotional guy, that's what we love about him. He almost made everybody cry."
Eventually, though, it came down to business and Irsay made the call.
Please enable JavaScript to view this content.