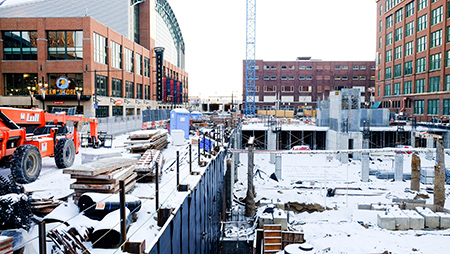 City and hospitality officials have started laying the groundwork for development of what would be one of downtown's largest hotels, an effort to accommodate demand for rooms booked for conventions and other big events by Visit Indy.
In 2017, the city's tourism agency booked 874,473 rooms for future years. That's down 1 percent from 2016 and 3.3 percent from the record 904,717 rooms booked in 2015.
Still, the 2017 total is 35 percent higher than what was booked into future years in 2010, and Visit Indy beat its goal of booking 800,000 rooms.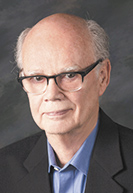 Dimond
The future, Visit Indy officials said, looks promising.
Adding to the optimism is a record number of hotel rooms—836,600—that were actually used in 2017 after being booked by Visit Indy. That's 70 percent more than in 2010—and a total that eclipsed even 2012, when the city hosted the Super Bowl, by about 20,000 rooms.
"The growth Indianapolis has seen in terms of consumed and booked hotel rooms since 2010 is among the tops nationally," said Drew Dimond, CEO of Dimond Hotel Consulting Group, which has offices in Indianapolis, Philadelphia and Nashville, Tennessee.
"It's a cycle, and a good one," Dimond said. "They have had success booking into future years, and that gets reflected in consumed rooms during the current year. They've done a good job keeping the pipeline stocked."
City and tourism officials were set to meet Jan. 4 with local and national developers interested in building an 800- to 1,000-room downtown hotel that is likely to have significant meeting space, including a 20,000-plus-square-foot ballroom. The massive hotel could open as soon as 2021, local hospitality officials said.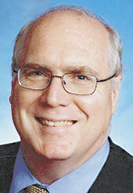 Eble
A hotel of that scale would rival the city's largest hotel, the 1,004-room JW Marriott, and exceed that of the second-biggest, the 650-room Indianapolis Marriott Downtown.
The Jan. 4 meeting was characterized as "very early feasibility discussions," by a source familiar with the agenda. Potential locations were set to be discussed as were potential financing options.
Mark Eble, a managing director of research firm CBRE Hotels, said the only sites that make sense for a hotel of that magnitude would be ones adjacent to or connected to the Indiana Convention Center.
"Any hotel developer of a property of that size would want that for competitive reasons," Eble said. "The city, too, would want that for competitive reasons. The more hotel rooms the city has connected to the convention center, the better it stacks up against other cities."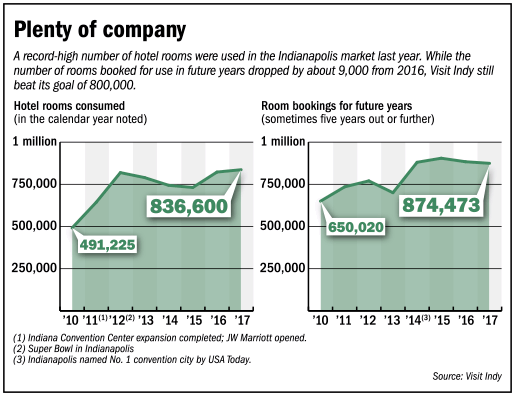 One such location that has long been discussed for an 800-plus-room hotel is Pan Am Plaza, just across Capitol Avenue from the convention center. Kite Realty Group Trust owns the site and has expressed interest in building a hotel there. Kite officials could not be reached for comment.
Market glut?
Despite five downtown hotel projects with a total of 920 rooms already in the pipeline, plus a proposal for a 110-room hotel adjacent to Union Station, local tourism officials have little fear another big hotel would glut the market.
Visit Indy CEO Leonard Hoops pointed to 2017 downtown hotel occupancy of 74.4 percent as an indicator that the market can handle more rooms.
That's up from 73.5 percent in 2016. And year-over-year downtown hotel occupancy has increased consistently since the JW Marriott opened in early 2011. In 2010, downtown hotel occupancy was 65.3 percent.
Dimond said the city's strategy of pursuing another big hotel is sound.
"New hotels, if done strategically, can create demand on their own," he said. "Travelers and meeting planners are drawn to certain brands because of their rewards programs. And people booking those conventions increasingly want a headquarters hotel. Having your attendees in one central hotel as opposed to spread across four or five hotels is a real attraction for conventions."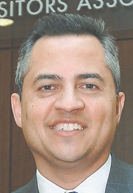 Hoops
Based on strong bookings into future years, Hoops is confident occupancy will continue to rise.
Conventions and corporate meetings are often booked years in advance, so the 2017 bookings count rooms for conventions and corporate meetings scheduled mostly through 2023.
"We had a really good year [in 2017]. The biggest impact is, we booked a record number of conventions, 24, that have a peak hotel-room-night usage of 3,000," Hoops said.
Visit Indy booked 19 such conventions in 2016. The previous record was 21, in 2013.
Some of the big Visit Indy wins that fueled future bookings were the 2022 College Football Playoff National Championship Game, 2021 NBA All-Star Game, 2021 Fraternal Order of Police Grand Lodge Convention, 2020 Church of God conference and 2019 Fellowship of Catholic University Students conference.
"Indianapolis relies heavily on group business, more so than most other cities, to fuel its hotel market. And they're beating the curve. Compared to other cities nationally, they're doing really well," said Dimond, who was a hotel operator—including in Indianapolis—before becoming a consultant three decades ago.
Visit Indy's hotel bookings began to skyrocket with the JW Marriott opening and the most recent Indiana Convention Center expansion in 2011. Bookings into future years jumped from 650,020 in 2010 to 734,991 in 2011.
When USA Today named Indianapolis the nation's No. 1 convention city in 2014, future bookings vaulted to 880,552, an increase of more than 180,000 over the previous year.
"That changed the perception of Indianapolis for a number of organizations," Hoops said. "Groups that weren't considering Indianapolis or who wouldn't even take our calls, were suddenly considering our city and taking our calls."
That same year, Visit Indy hired a new senior vice president of sales—veteran Daren Kingi, who had a 29-year career in the hotel industry, most recently as vice president of sales for Marriott International's Western Mountain Pacific Area.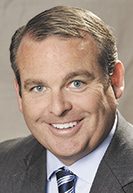 Tamm
That's made a huge difference, said Indiana Restaurant & Lodging Association President Patrick Tamm.
"With his experience in the West, he's opened up a whole new area of geography and is also bringing in different types of groups—ones with high-end professionals and tech—to Indianapolis," Tamm said. "He's beyond superb in what he's done from a straight-up sales standpoint."
Steep challenge
Hoops said Visit Indy "has a strong pipeline" of leads for 2018 and he is confident the organization will again this year be able to book more than 800,000 future hotel room nights.
But he admitted that, with each passing successful year, the challenge gets steeper.
"It's getting harder to book new groups because we have fewer clean dates into the future to sell," Hoops said. "It's not like we have an infinite number of widgets we can make.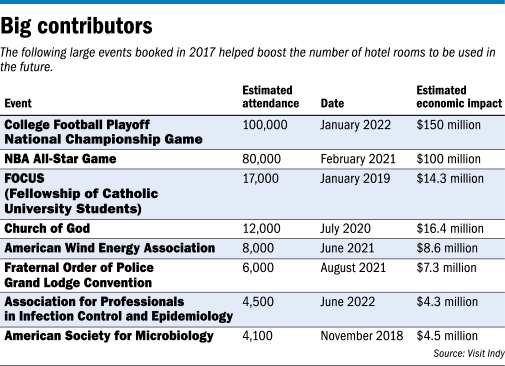 "We've been selling the most recent convention center expansion for a decade now, and it's getting to be a little like a Tetris puzzle to book events," Hoops added. "But we believe we can still get to 800,000 because the pipeline is robust."
The city's hotel industry took a gut punch with the Indiana General Assembly's 2015 passage of a controversial religious freedom law. Many groups decried the measure as biased against gay and transgendered people. The Legislature a week later passed another law designed to "fix" the first one.
The number of hotel rooms booked by organizations outside of Indiana from March 2015—shortly after the controversy erupted—until the end of 2015 plummeted 28 percent compared to the same period a year earlier, according to Visit Indy.
The overall numbers were cushioned by FFA conventions, which the city had booked out for several years. Still, by January 2016, Visit Indy was on pace to sell only 652,500 hotel rooms for 2018.
Since then, Visit Indy has clawed back some of the losses, but Hoops conceded it will be a tall task this year to equal the number of rooms actually used in 2017.
But the years beyond look brighter, with rooms booked for 2019 pacing at nearly 770,000 and for 2020 at 812,000.
To fuel the growth, Hoops said, the city needs not only one more 800-plus-room hotel, but a massive ballroom as well—one either added to the convention center or included in the new hotel.
Hoops said it's important that the ballroom—which could be as much as 20,000 square feet bigger than the convention center's current largest ballroom at 32,000 square feet—be tied into the south end of the center.
He said the possible expansion, along with a new hotel, are being discussed by officials from Visit Indy, the Capital Improvement Board and the Mayor's Office.
"More and more groups are requesting bigger ballrooms for big events, function space or event-wide gatherings," Hoops said.
When asked where the new ballroom might go, he said: "There are more real estate options than you might initially believe. There are ways to do it, but I don't want to get into details right now."
Hoops said he'd like to see a new hotel and the ballroom space operational in five years.•
Please enable JavaScript to view this content.