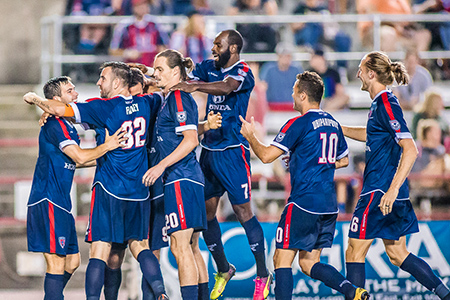 Officials with the Indy Eleven soccer team are in ongoing discussions about the possibility of playing future games in Lucas Oil Stadium, while a soccer news website reports that the team will join the United Soccer League for its 2018 season.
An Indy Eleven representative told IBJ on Saturday that the team is in talks about the possibility of playing games in the downtown Indianapolis stadium, but that no decisions had been made.
"We're still trying to see if it makes sense," said Steven Krusie, director of marketing and communications for Indy Eleven. "We're looking at whether it's possible. There are so many things that need to be ironed out, it may not happen."
Krusie said he was not able to provide further details, including who specifically the team was in talks with. Eric Neuberger, director of the stadium, referred IBJ's request for information back to the team. Other Indy Eleven officials did not immediately respond to requests for comment. A spokesperson for Mayor Joe Hogsett was not aware of the talks and referred questions to the city's Capital Improvement Board, which owns the stadium.
A source close to the stadium who wished to remain anonymous confirmed that the possibility of the team hosting games in the facility has been discussed. The source was only aware of the potential for playing one-off games in the stadium—not all of the team's home games.
A report posted Friday on the soccer website SocTakes claimed that the team would join the United Soccer League for its 2018 season and host its home games in Lucas Oil Stadium, citing "multiple sources."
It said that an official announcement about the team's move from the struggling North American Soccer League to USL is expected late next week.
Krusie told IBJ on Saturday that the team has had conversations with the league, but he declined to reveal the substance of the discussions. "Nothing has been decided," Krusie said.
The NASL has been in a precarious position for several months. In September, it was demoted from Division 2 to third-tier status for the 2018 season by the United States Soccer Federation.
Also in September, the NASL sued the U.S. Soccer Federation, claiming that it has illegally protected the monopoly position of its business partner, Major League Soccer. And there has been speculation that NASL might fold rather than play with Division 3 status.
Meanwhile, the USL has been on the rise. In January of last year, it was elevated from third-tier status to the second division. It had 30 teams for its 2017 season. The NASL currently counts seven teams.
Since its debut in 2014, Indy Eleven has played all of its home games at the Michael A. Carroll Track & Soccer Stadium on the IUPUI campus. In the 2017 season, it topped all NASL teams in attendance by averaging 8,397 per game for its 16-game home schedule.
However, team ownership has consistently lobbied city and state leaders for assistance with building a new stadium, saying that it's necessary for achieving its ultimate goal of competing in Major League Soccer. Doing so would allow the team to become profitable, they say.
Average attendance in the MLS this year was around 22,000.
The team applied last January for an MLS expansion franchise. In late November, MLS announced four finalists for two expansion clubs it was expected to award in December. The city of Nashville, Tennessee, received one franchise, and MLS put off an announcement on the second.
Indianapolis, one of many cities that submitted a bid, was not among the four finalists announced in November. Two more franchises are expected to be awarded at a later date.
Indianapolis' bid was put together by Indy Eleven owner and real estate developer Ersal Ozdemir and an investment group that includes local auto dealer Andy Mohr; Elwood Staffing President Mark Elwood; Heritage Environmental Services President Jeff Laborsky; and Mickey Maurer, a shareholder in The National Bank of Indianapolis and in IBJ Corp.
Hampering Indy's MLS pursuit is the lack of a solid stadium plan—a condition needed for bidders to receive franchises. The team has identified land southwest of Lucas Oil Stadium for a new 20,000-seat stadium but hasn't been able to get state lawmakers to approve a funding measure.
Please enable JavaScript to view this content.