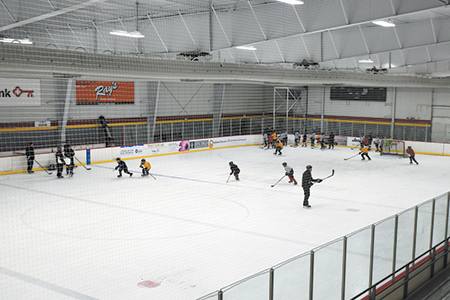 A $25 million Greenwood sports complex proposed by Indy Fuel owners Jim and Sean Hallett is on ice while the father-and-son duo try to work out a deal to get a sizable, one-time rebate from Indianapolis Power & Light Co.
Sean Hallett told IBJ the two sides have been at an impasse for more than three months and are still miles apart.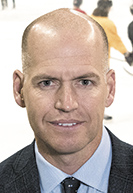 Sean Hallett
The Halletts are seeking a rebate from IPL of up to $2.7 million for a $5 million energy-saving system that will cut the facility's annual power usage 40 percent, said Jim Cain, president of Maine-based Firland Management, which is serving as a consultant on the project.
IPL, he added, is offering just $150,000. He said that's totally out of line with the types of rebates utilities in other cities have offered for similar systems.
But IPL spokeswoman Claire Dalton said all rebates are calculated based on potential energy savings and are not meant to be development incentives.
A spokesman for the city of Greenwood said the project continues to move forward with a goal of breaking ground on the complex at the southeast corner of the Interstate 65 and County Line Road interchange this spring.
Hallett disputed that.
"Nobody seems to appreciate how big a piece of the puzzle this rebate is," he said. "The project is not moving forward minus the rebate."
Hallett said if an agreement with IPL can't be reached, his company will be forced to "explore other options. At this stage, yes, this is a deal breaker."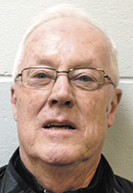 Cain
The project has already moved once. The Halletts previously proposed to build the complex at Freedom Park, about five miles southwest of the current site. At that time, Duke Energy—which services that area—was discussing a much bigger rebate on the same system, Cain said.
Meanwhile, he said, private developers have now spent $500,000 in permitting, design and planning the project at the I-65 site. "We don't want to walk away," Cain said. "There's been a lot invested here. But our hand is being forced."
There's still a chance a deal could get worked out in time to break ground this spring, Cain said, though he added optimism is melting with each passing day.
The Greenwood spokesman said city officials are not involved in negotiations between the Halletts and IPL.
The Halletts plan to install an Eco Chill ice-making and chilling system for two full-size ice rinks at the proposed complex, which is expected to be 175,000 to 200,000 square feet and include turf fields and courts for basketball and volleyball and a hotel.
The Eco Chill ice maker captures the heat it generates in production, then reuses it to heat water and power dehumidifiers and the HVAC system for the entire complex. While the system has been installed in a number of facilities in Canada and a few U.S. states, Cain said this would be the first installation in Indiana.
Cain is still hopeful the Halletts can work out a deal with IPL. But he said they have had no conversations with IPL since early October.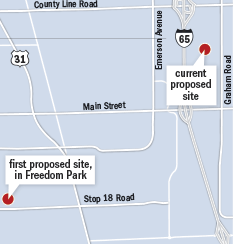 Piece of the puzzle
The sports complex was slated to open by the summer of 2019. With Perry Park—the south side's only ice rink—now closed, Hallett said, the need is greater than ever.
"A lot of the people from the south side are now coming up to our facility in Fishers," said Hallett, whose company owns and operates the Fuel Tank at Fishers. "We're full with ice skating clubs and hockey teams and leagues every day."
About 300,000 to 400,000 visitors use the Fuel Tank annually. But Hallett said attendance would be even higher at a Greenwood facility.
"There's a tremendous need down there," he said. "We get calls all the time wanting to know when the Greenwood [facility] is going to open."
The Halletts—owners of the Indy Fuel, a minor-league professional hockey team—and Indianapolis-based developer Gershman Partners announced plans in June to team up on the $40 million-plus, 60-acre sports, family entertainment and hospitality complex.
Gershman said it would spend $15 million on the initial phase of the overall development, which would include another 125,000 square feet of entertainment, dining, retail and hospitality.
The developer said it has early agreements in place with Xscape Theatres and Main Event Entertainment to serve as anchors for that portion of the development. Xscape operates multi-screen movie theaters, and Main Event operates bowling-alley facilities that also feature laser tag, billiards, bars and dining.
Ten outlots at the development would include a 200-room hotel, convenience store and restaurants. The site also could eventually include medical and office space.
Gershman, the developer behind Hamilton Town Center in Noblesville and The Bridges in Carmel, has been trying to develop the high-profile piece of land in Greenwood since 2015.
Hallett told IBJ that everything—including incentives from the Greenwood Redevelopment Commission totaling $2 million, an iceplex naming-rights partner (that he declined to divulge), and a deal with the landowner—is in place to move the project forward. Everything except the IPL rebate.
Discrepancy
Greenwood officials confirmed the city's incentives for the project are in place.
Gershman officials did not return a call seeking comment.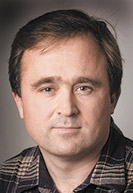 Gotham
Douglas Gotham, director of the State Utility Forecasting Group at Purdue University, said he is surprised by the level of disparity in what is reportedly being offered by IPL and requested by the Halletts.
"If the customer can produce the energy needed cheaper than IPL can, I would think state and federal regulators would really be in favor of projects like this," Gotham said. "For there to be a difference like this, there must be a pretty big discrepancy in what the two sides believe the energy savings will be."
IPL provided "a $150,000 rebate projection" based on project plans forwarded by the Indy Fuel, said Dalton, the IPL spokeswoman. She noted that IPL does not formally "offer incentives until projects are completed."
"Working with the Indy Fuel's engineering/design consultants, we were able to offer a rebate amount that was based upon the specific energy savings associated with this unique project," Dalton said in an emailed response to questions.
"Our energy efficiency programs, which are approved by the [Indiana Utility Regulatory Commission], are required to be cost-effective, meaning that the rebates offered must be supported by the potential reduction in energy consumption," she said. "They are not designed to be economic development incentives."
IPL has an energy-efficiency program called "Business Custom Incentives Program," which, as the name suggests, provides incentives for customer-specific projects. The IURC has previously approved the program, with a yearly customer incentive budget of $1.2 million across all projects, although IPL can exceed that. The Halletts alone are seeking more than double that budget.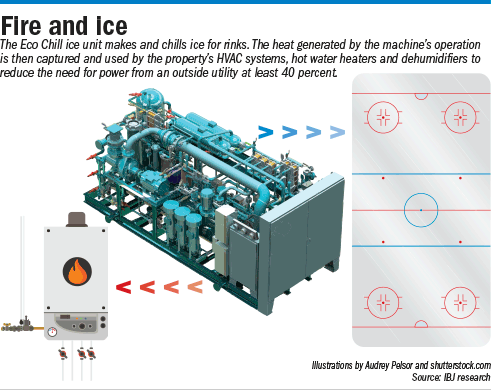 Elsewhere
Cain, whose firm owns eight ice rinks and consults for others, said the installation of an Eco Chill system at the Cornerstone Ice Arena in Lockport, New York, was awarded a $1 million rebate.
"That project is less than half the size of the one" in Greenwood, Cain said.
New York State Electric and Gas Corp., which services Lockport, confirmed to IBJ that it did give a rebate to developers of that project. The utility declined to say how much was rebated, but said it was less than $1 million.
However, funds from the utility were wrapped into a larger grant from the Western New York Regional Economic Council, which totaled $1 million. The utility and New York state officials declined to say how much of that package represented the Eco Chill system rebate. A source close to the utility called the rebate for the Lockport system "sizable."
Cain maintains that, when the Halletts' ice skating and hockey facility was proposed for Freedom Park, south of Smith Valley Road between State Road 135 and U.S. 31 South, officials for Duke Energy were discussing a rebate in the $2.5 million to $2.7 million range.
Duke spokeswoman Angeline Protogere said neither she nor anyone at Duke has a record of those conversations.
"I'm not sure it got to the stage of a firm offer," Protogere said.
Protogere added that Duke "absolutely" offers rebates for commercial entities that install energy-saving equipment or systems. "Duke is very interested in energy-efficiency," she said.
It might seem counterintuitive for a utility to give customers incentives for installing equipment that means they will consume less energy.
But Protogere said the purpose of the energy-efficient rebate programs "are to help us delay building new plants, which helps manage costs for all of our customers."
Protogere said Duke has awarded some one-time grants in the six- and seven-figure range, adding that "the seven-figure [rebates] are less common."•
Please enable JavaScript to view this content.