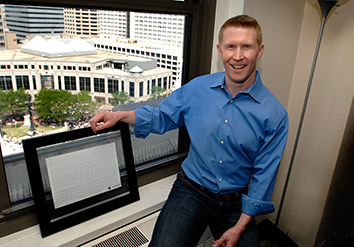 A fledgling Indianapolis-based software company co-founded by the former CEO of Compendium Software is planning a downtown expansion that is expected to create 65 jobs over the next four years, the firm announced Thursday.
Costello Inc., which sells deal-management software for sales teams, said it plans to begin expanding its space in the Union 525 building at 525 S. Meridian St. within the next few weeks to accommodate new employees.
Frank Dale, who spent nearly two years as CEO at Compendium before its 2013 sale to Oracle, co-founded Costello along with Rod Feuer in August 2016. Dale told IBJ in September that his company had eight employees.
The Indiana Economic Development Corp. offered Costello up to $950,000 in conditional tax credits and up to $100,000 in training grants based on the job-creation plans. The incentives hinge on the company's ability to meet hiring goals.
Costello is headquartered in flexible-lease space at Union 525, which is home to several other tech tenants, including Springbuk, Smart File, Launch Indy and Scale Computing.
The company raised $1 million in seed money late last year in a financing round led by Nebraska-based Dundee Venture Capital, with participation from Indianapolis-based Elevate Ventures, Lafayette-based M25 Group and Colorado-based Service Provider Capital.
Costello's deal-management platform helps sales reps and account executives consistently follow sales methodology, gives managers visibility into the quality of every deal, and shows sales leaders what's working and what's not.
Please enable JavaScript to view this content.