Amazon is known for the smiles that adorn its delivery boxes, but the $630-billion-and-growing Seattle-based powerhouse elicits a different kind of reaction in boardrooms of companies in all kinds of industries.
A sense of respect and fear is pervasive as firms mull Amazon's next targets for disruption and strategize on how to play defense or join up as a partner or acquiree. The very prospect of Amazon's entering the pharmacy business led Rhode Island-based CVS to spend $69 billion for Connecticut-based health insurer Aetna late last year, a deal that came just months after Amazon paid $13.7 billion to acquire Whole Foods.
And more big deals could be on the horizon as dozens of companies—including local powerhouses such as Simon Property Group Inc., Eli Lilly and Co., Duke Realty Corp. and Anthem Inc.—game out what Amazon's huge ambitions could mean for their bottom lines.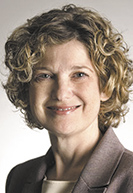 Kesner
"Amazon's willingness to get into so many different industries and take a long-term view, and the sheer magnitude and scale of what they have, makes them a competitive threat for just about any industry," said Idalene "Idie" Kesner, dean of the Indiana University Kelley School of Business and a professor of strategic management. "They have the financial wherewithal to make a big splash in any industry they choose to operate in. Name the industry, and you can begin to see how much Amazon is a threat."
Which industry will Amazon target next? Plenty of brick-and-mortar retailers remain on the ropes and could ultimately face the same fate as Indianapolis-based HHGregg, which went out of business last spring. But other industries—including financial services, health care, home improvement and real estate—should consider themselves on notice, said Kesner, who described Amazon as the "the quintessential, ceaseless innovator." Even the leaders of companies that aren't feeling an imminent Amazon threat are learning lessons from one of the greatest case studies in modern business history.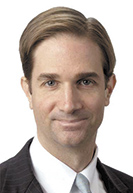 Birge
James S. Birge, a partner at local law firm Faegre Baker Daniels who focuses on mergers and acquisitions, expects more "aggressive" moves like the CVS deal as boardrooms try to stay a step ahead of Amazon.
"When you see companies like CVS jumping into entirely different industries like health insurance as a function in part of Amazon's ability to distribute its products, I think essentially every boardroom has to be scared of this," Birge said.
"Even if they don't think they're directly touched by Amazon, there may be companies out there that are more closely touched that may jump into their sector. It's hard for me to imagine a boardroom in the country that isn't thinking hard about this."
New markets
A potential Amazon entry into pharmaceutical distribution—which inspired the CVS-Aetna deal—could disrupt health care players from Lilly to Roche to Anthem by changing the "power balance," said Todd Saxton, an associate professor of strategy and entrepreneurship at IU Kelley School in Indianapolis.
"One of the things we were half joking about with [a group of] physicians was whether CVS is afraid that Amazon is going to move into drug delivery, where a drone drops off your prescription before you even get home from the doctor's office," Saxton said. "It kind of started as a joke, and then we realized it's not that unlikely a scenario in the next three to five years."
Anthem, like Aetna, faces less of a competitive threat from Amazon because its highly regulated products would be harder to disrupt, Birge noted.
Among companies that offer products to consumers, the ones with the best chance to survive head-to-head with Amazon likely fit one of a handful of criteria: They offer a shopping experience that's "compelling or innovative," sell an inexpensive product that is difficult to ship economically, or partner with Amazon to sell their product directly on the platform, Birge said.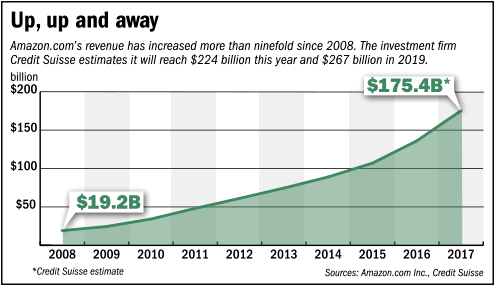 Company executives across myriad sectors are well aware of the Amazon threat, are watching closely, and are aligning their strategy in response.
Simon Property Group, for instance, in recent years wisely has focused on very high-end malls and outlet centers—two sectors Amazon so far has failed to disrupt.
On an August conference call with Wall Street analysts, CEO David Simon saw room for optimism in Amazon's deal for Austin, Texas-based Whole Foods.
"The good news for us, as an industry—it does reinforce that, in my opinion, the importance of connecting with the consumer through a physical business," Simon said, though he teased that he had plenty of other "interesting thoughts" he would not be sharing on the record.
Multiple strategies
Other companies are changing the speed and fashion with which they bring products to market because of the rules Amazon continues to break.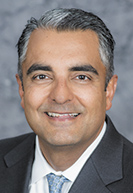 Bhojwani
"If you think about what Amazon has done—how quickly they have changed over this last period of time—I think it's very dangerous to try and predict exactly how much consumer behavior is going to shift on financial products over the next five to 10 years," Carmel-based CNO Financial Group CEO Gary C. Bhojwani said on a June call with Wall Street analysts.
Still others are seeking to piggyback on Amazon's success, either by working with the company directly or with companies that sell on Amazon. Firms that offer supply-chain and logistics services and marketing and analytics tools to Amazon sellers are well positioned. Among the local players are Viral Launch and SupplyKick.
"The savvy companies are looking for those opportunities where Amazon can be a partner—either directly or indirectly," Saxton said.
Duke Realty Corp. counts Amazon as its biggest customer. Amazon leases more than 7 million square feet of distribution-center space from Duke, about 6 percent of the Indianapolis-based company's overall portfolio, according to Securities and Exchange Commission filings. And Duke continues to develop space for Amazon, using a variety of building prototypes and sizes up to 1 million square feet.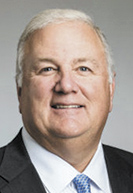 Connor
The common thread: Amazon owns all the fixtures and equipment inside. So, even if the company moved out—and it hasn't yet vacated a Duke building—Duke would "own a great million-square-foot holding" it could quickly turn around to a traditional distribution tenant, Duke Realty CEO James B. Connor said on a call with Wall Street analysts last year.
Later on the call, an analyst asked whether Connor was worried about the potential for overbuilding of e-commerce distribution centers.
"In the case of Amazon," he responded, "since they are the proverbial 900-pound gorilla, I kind of think they know what they are doing, and they currently have the balance sheet to back it up."
For Fort Wayne-based Vera Bradley, Amazon is a potential lifeline in a challenging brick-and-mortar retail environment. The trick is to maintain margins on its high-end handbags in a digital environment where consumers tend to be more attuned to price.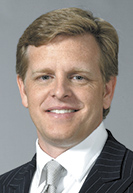 Wallstrom
"We are working closely with Amazon, working to understand how to maximize that relationship with them by focusing on full price and enhancing the brand, trying to clean up unauthorized distribution and really re-establish our full pricing on Amazon," explained Vera Bradley CEO Robert T. Wallstrom on an August conference call. "We do think there's growth there, and we're focused on it, but we want to make sure it's the right type of growth."
A little perspective
There's no question Amazon is a powerhouse. But it's also instructive to remember that the story of business is the story of giants felled.
In its heyday, retailer Sears owned Allstate, Coldwell Banker, Black & Decker and Kenmore, and even wrote mortgages.
"They could do everything to sell a home, mortgage that home, fill that home with products," Saxton noted. "A number of people at the legislative level thought about intervening to break up that monopoly."
But a few years later, Chicago-based Sears was in trouble after overextending into financial services, and the retailer now is reeling as rumors circulate about the potential for bankruptcy liquidation.
Amazon is likely to face its own stumble in the not-too-distant future, Saxton predicted, and its deal for Whole Foods last year might look in retrospect like a turning point.
It could be an acquisition bet gone bad. Investor fatigue. Or a parallel trend could catch fire—gig-economy darlings like Uber are disrupting, too.
"You can't be that good in that many markets simultaneously," Saxton said. "They have a lot of reach, but there is a reason financial markets discount players that are too diversified.
"Right now, I think the concern, and the pendulum swing, is in Amazon's expansion mode. I'm pretty convinced within the next three to five years that pendulum will start to swing back. Focused players in specific markets are simply going to outcompete Amazon."
One potential stumble for Amazon that seems unlikely is antitrust scrutiny. The company is seen as consumer-centric and a value leader—"an ultimate competitor," Kesner said. And a breakup would put the company at a disadvantage in its global battle with massive Asian competitors like Alibaba, the Chinese e-commerce and internet giant.
Amazon also is seen as a job-creating darling: It has brilliantly disrupted local economic development, Birge added, drawing more than 200 communities including Indianapolis to woo the company to locate a second headquarters and bring 50,000 jobs. (The company announced this month that Indianapolis is one of the finalists.)
Hard to compete with that.•
Please enable JavaScript to view this content.