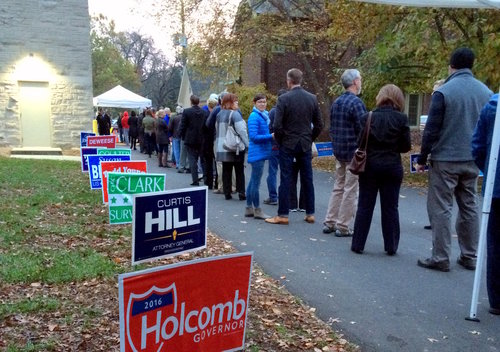 Voters in Marion County will have more options starting with the 2019 elections due to long-debated changes approved Wednesday that expand early voting and create vote centers in the county.
The Marion County Election Board unanimously approved a bipartisan proposal that would convert the county's traditional polling places to vote centers starting with the 2019 primary election. That way, Marion County registered voters can use any of 300 vote centers, rather than only a designated polling place.
The county currently has about 300 polling sites, with some serving more than one precinct. A great majority of them will remain as vote centers.
The proposal also expands the use of early voting in the county, taking effect in 2019. It also creates electronic pollbooks to be used county-wide.
It creates an Election Administration Planning Committee, which will develop a plan to designate several of the vote centers as early satellite voting sites.
Democratic Marion County Clerk Myla Eldridge said the resolution was "one of the most monumental bipartisan agreements achieved in the history of Marion County" and that it will "revolutionize how we vote."
"No longer will a voter have to vote using a provisional ballot because he or she showed up to the wrong polling place on Election Day," Eldridge said. "No longer will a voter have to struggle to find a parking spot in downtown Indianapolis during early voting because the only place to vote was in my office inside the City-County Building. Those days will soon be over. Passing this resolution is an enormous win for our voters, and a win for Marion County."
The Republican member of the board, Melissa Thompson, said in a statement that she was "excited about the prospect of moving Marion County forward in how we administer elections and the role that technology can play in that process."
Thompson had previously proposed switching to vote centers, which Democrats had first been against because they were worried that the number of sites would be reduced.
"This conversation is long overdue and I am glad that both parties have come together in a bi-partisan way to increase security, innovation and greater access to voting," Thompson said.
The changes comes after a previous impasse over early voting in Marion County between the two major political parties.
In May 2017, Common Cause and the NAACP filed a federal lawsuit alleging that Marion County's single location for early voting provided unequal access for voters and that it was discriminatory and caused voter suppression.
Not everyone was cheering the agreement. Julia Vaughn, executive director of Common Cause Indiana, sai,d "I think it's an interesting proposal but I really wish they would have included the public as they were making this decision."
"It's a really big change," Vaughn said. "I'm confused about the motivation. In every other county that has made the switch to vote centers, it has reduced the number of polling places. I'm real worried that while we say we're going to keep the same number today, when it comes to 2019 and this is actually implemented, that will change."
Vaughn said she "hopes voters will ask some hard questions and ensure that voting access is actually improved instead of the process being made less accessible."
Please enable JavaScript to view this content.