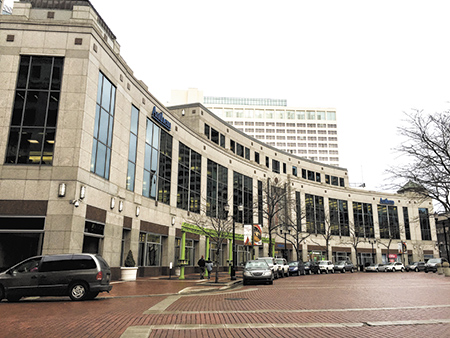 One of the most prominent office buildings downtown has become available for lease and is expected to generate plenty of interest from prospective tenants coveting a prized Monument Circle address.
Insurance giant Anthem Inc. occupies much of the 213,600-square-foot building at 120 Monument Circle but plans to fold its headquarters into its operations center on Virginia Avenue after deciding not to renew a lease that expires at the end of the year.
The four-story building is best suited for a headquarters, as opposed to dividing it up for multiple tenants, local real estate brokers said, though they say few locally based companies are on the prowl for such a large block of space.
Anthem's decision to vacate the building, which IBJ reported Jan. 19, brings to market an amount of space not seen on the Circle since Emmis Communications Corp. completed its nine-story, 120,129-square-foot headquarters in 1998.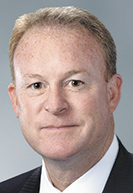 Owens
"This is almost a once-in-a-lifetime opportunity," said Jon Owens, an office broker at Cushman & Wakefield. "Any time you have a high-profile property like this become available, I think that there will be significant interest and demand from the marketplace. You can't get any more prominent in our downtown than a Monument Circle address."
The property spans the entire northwest quadrant of the Circle and boasts a rich history. It sits on the former home of the ornate English Hotel & Opera House, which was demolished in 1948 to make way for a J.C. Penney.
Massachusetts-based Franklin Street Properties Corp. in 2011 bought the Anthem headquarters building for $42 million (a lofty $196 per square foot) from an affiliate of locally based HDG Mansur.
At the time, Anthem—then known as WellPoint—occupied 90 percent of the office space. Anthem officials declined to say how much the company occupies now.
Publicly traded Franklin Street has hired John Vandenbark of the local CBRE office to market the space and declined through him to comment on Anthem's pending departure and the opportunity it might present.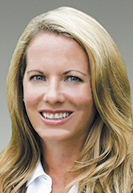 Barnett
Vandenbark also leases for Franklin Street River Crossing I and II in the Keystone Crossing submarket, the only other office buildings in the Indianapolis area that Franklin Street owns.
Owens is unsure what Anthem is paying in rent but expects Franklin Street to ask a rate topping out at $24 per square foot—slightly less than what the top office towers are quoting. Market Tower is asking $28.50; Salesforce Tower, $27.50; and OneAmerica Tower, $24.50.
"The location and visibility are both fantastic," said Jenna Barnett, managing director of the local Newmark Knight Frank office who represented Salesforce in the company's move to its tower. "In the core of downtown, there are very few large pockets of space available for large users."
Indianapolis is now Salesforce's largest hub outside its headquarters in San Francisco. The company announced in 2016 that it plans to add 800 workers by 2021, boosting its downtown employment to 2,200.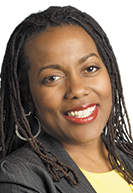 Jones
Angela Smith Jones, the city's deputy mayor of economic development, said the Anthem space could help the city grow its tech presence, if Franklin Street is unable to attract another large headquarters company like Anthem.
"As we focus on continuing [to support] our growing tech companies, from scale-up to acquisition, it might be ideal to support that tech eco-system," she said. "Salesforce grew on the Circle and is still on the Circle."
Local office brokers agree it would be ideal for Franklin Street to attract another large headquarters tenant because of the challenges involved in subdividing the space.
But, voicing his concerns, Bill Ehret, managing director of the local Avison Young office, said: "How many 180,000-to-200,000-square-foot users are there?"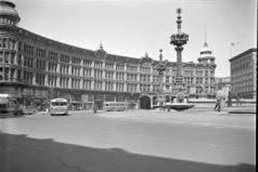 (Photo courtesy of the Indiana Historical Society, P0569)

Overall, the Indianapolis-area office market has been on the upswing and has registered 15 straight quarters of positive absorption, according to Cushman & Wakefield. Downtown vacancy stood at 16.0 percent at the end of the year, down from 17.1 percent at the end of 2016.
About 300 Anthem employees work at the Monument Circle address, including numerous executives. All will move to the company's Ben Lytle Center at 220 Virginia Ave., where 2,100 now work.
"Our lease on our Monument Circle Building will expire at the end of the year and we have made the decision not to renew the lease," Anthem said in a statement.
It's unclear exactly when Anthem plans to leave the building. The company declined to comment beyond the statement it provided.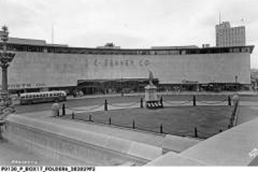 The English Hotel and Opera House (shown in 1942 in top photo) was demolished in 1948 and replaced by a J.C. Penney. That building was redeveloped into the health insurer's headquarters in the early 1990s.(Photo courtesy of Bass Photo Co. Collection, Indiana Historical Society)
Anthem's decision to consolidate local operations comes as it expands in Atlanta. The company announced in October that it will anchor a 21-story, $105 million office tower at Technology Square in Midtown with enough space to ultimately house 3,000 information technology employees.
Anthem's headquarters building on Monument Circle also is home to a handful of ground-floor tenants—Forum Credit Union and H&R Block, in addition to a FedEx shipping outlet.
The English Hotel and Opera House that previously stood at the site was finished in 1880 by William Hayden English. He was a local businessman, congressman and 1880 Democratic vice presidential candidate who ran with Winfield Scott Hancock, according to "The Encyclopedia of Indianapolis."
The opera house immediately became the city's leading theater and hosted performers such as George M. Cohen, Helen Hayes and Laurence Olivier. The hotel matched the opera house in opulence until age and changing style led to its decline.
In 1948, both the hotel and opera house were demolished and replaced by the J.C. Penney. The building received a $30 million revamp in the early 1990s to accommodate Anthem. The redevelopment gave the building a new facade and two rooftop turrets, referencing the former opera house.
"It's an iconic building," Ehret said. "It's been occupied by Anthem for a long time."•
Please enable JavaScript to view this content.