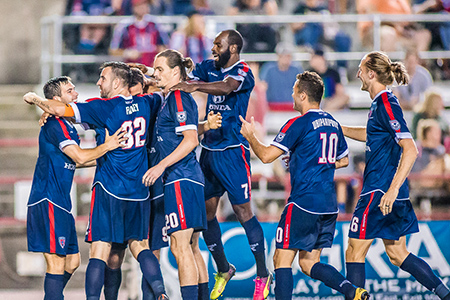 The Indy Eleven will play its 2018 home matches at Lucas Oil Stadium under an agreement expected to be announced by city and team officials at 10 a.m. Monday at the stadium.
No financial details were available early this morning, but the agreement comes just weeks after the team said it will move to the United Soccer League, a 30-plus-team Division 2 professional league.
At the time, Indy Eleven President Jeff Belskus told IBJ that Michael A. Carroll Track & Soccer Stadium on the IUPUI campus "is our home stadium." But he said then that the team had been working with the city and the Capital Improvement Board "to see if there are other options."
A source close to Lucas Oil Stadium said then that city and Eleven officials had been discussing playing a handful of games at Lucas Oil Stadium this year.
Now, the team has worked out a deal to play at Lucas Oil unless its schedule conflicts with events already planned at the stadium, which is home to the Indianapolis Colts. The Eleven are scheduled to play 17 home games in the 2018 season.
The team has played at Carroll Stadium in the North American Soccer League since its inception in 2014. Indy led the NASL in attendance in 2017, drawing an average of 9,170 per game.
The attendance success comes despite a home venue that has no concourses or overhead cover or permanent restrooms or concession stands. The team has been trying to persuade city officials and Indiana lawmakers to help it pay for a new stadium but has run into roadblocks.
Joining the USL and playing at Lucas Oil could give the Indy Eleven a better shot at someday meeting its goal of playing in Major League Soccer. In the meantime, the Eleven could have an MLS affiliation in short order. A number of USL teams serve as MLS farm teams.
Please enable JavaScript to view this content.