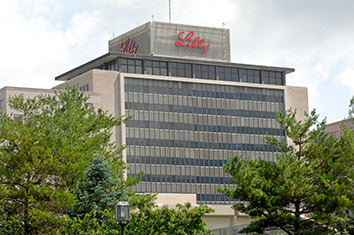 Eli Lilly and Co. racked up nearly $3 billion in special charges in the fourth quarter due to downsizing its workforce and the effects of U.S. tax reform, resulting in a loss of $1.65 billion.
The Indianapolis-based drugmaker said Wednesday it otherwise had a strong quarter, with revenue up 7 percent to $6.2 billion, driven by sales of new products, such as the diabetes medicine Trulicity and psoriasis medicine Taltz.
The company lost $1.58 a share, compared with profit of 73 cents a share a year ago. Before one-time charges, the company said earnings per share climbed 20 percent, to $1.14.
The results surpassed Wall Street expectations. The average estimate of eight analysts surveyed by Zacks Investment Research was for earnings of $1.08 per share.
Lilly's results follow a huge restructuring last month, in which the company accepted early retirements from about 2,300 U.S. workers, many of them in Indianapolis. Lilly took a charge of $1 billion to pay for that.
The company also took an income-tax charge of $1.91 billion, which it said covered a one-time repatriation of overseas cash prompted by the tax reform legislation recently passed by Congress. Lilly and many companies are taking a big tax hit from repatriating cash this quarter but will benefit tremendously long term from the law's reduction in the corporate tax rate from 35 percent to 21 percent.
Lilly said that as a result of the law, it might repatriate more than $9 billion in cash stashed across the company's global affiliates.
For the full year, Lilly saw worldwide revenue climb 8 percent to $22.87 billion. That was driven by higher volumes and higher prices. U.S. revenue climbed 11 percent to $12.78 billion.
Although sales of new products climbed in the fourth quarter, Lilly saw sales of several older products fall, including the ADHD drug Strattera and bloodthinner Effient, which recently lost their patent exclusivity.
Sales of animal health products fell 6 percent in the quarter to $790.9 million. Lilly said last year it is considering the sale or spinoff of its Greenfield-based Elanco animal health unit, but did not release any news on that Wednesday.
Lilly said it expects to ring up annual revenue this year between $23 and $23.5 billion, with growth driven mostly from sales of new products. The company also increased its profit guidance, saying it expects earnings per share this year of $4.39 to $4.49, up from previous guidance of $4.24 to $4.34.
Please enable JavaScript to view this content.