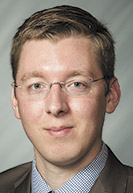 Ober
Seven people, including state Rep. David Ober, have applied to fill an open seat on the powerful Indiana Utility Regulatory Commission.
The five-person commission regulates $14 billion in electric, natural gas, telecommunications, water and sewer utilities. It approves utility projects and determines how much utilities can charge customers.
Ober, a Republican from northeast Indiana, chairs the House Utilities, Energy and Telecommunications Committee. He announced Jan. 29 he will not seek re-election. He is in his sixth year in the House.
Ober, 30, said he is stepping down from the House because he is planning to relocate to Indianapolis following a recent engagement. His fiancee lives in central Indiana.
Other candidates for the opening are Tristan Vance, director of the Indiana Office of Energy Development; Eric Hand and Marcus Turner, both of whom work as IURC analysts; Stefanie Krevda, IURC's executive director of external affairs; Allen Mounts, head of Evansville's water and sewer department; and Michael Shaver, president of Wabash Scientific Inc., an Indianapolis biotech company.
The candidates will appear before the IURC Nominating Commission on Feb. 6. The commission will send Gov. Eric Holcomb a list of three finalists.
The IURC opening was created when Chairman James Atterholt resigned in December to move to Fort Myers Beach, Florida, where his wife was offered a job transfer.
Please enable JavaScript to view this content.