The luxury housing market is hot—and possibly getting hotter.

Home sales of $1 million or more in the Indianapolis area have skyrocketed 143 percent since 2012. Last year, nearly 150 such homes were sold, compared to only 61 five years ago.

Even compared to 2016, luxury home sales were up nearly 20 percent.

"It was probably the best year we've ever had in the luxury home market," said Jim Litten, president of F.C. Tucker Co. Inc. "The housing market right now is very, very good. … It's as good as I've seen it in my career."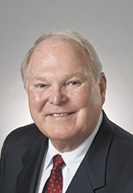 Litten
The Indianapolis market appears to be following a national trend. According to data from Seattle-based online real estate firm Redfin, sales of homes priced at or above $1 million increased about 15 percent from the end of 2016 to the end of 2017.

Of the 20 highest-priced home sales in the Indianapolis area, 13 were in Marion County, six were in Hamilton County, and one was in Boone County.

The top sale was a 5,700-square-foot condominium in the Conrad Indianapolis downtown. The three-bedroom, four-bath home went for $4.4 million.

Local real estate agents credit the booming stock market, low unemployment rate, and high consumer confidence in the economy for the boost in luxury sales. It also helps that borrowing rates remain low.

"There's a lot of folks out there right now with a lot of wealth," Litten said. "And if they're getting antsy about where they live … there's no better time than now."

But will the high continue this year? Experts are divided.

"We've got a strong state, the economy is good, the unemployment level is low," Litten said. "All the stars are aligned."
Click here to see the 20 priciest sales of 2017.
But Greg Cooper, an agent with Berkshire Hathaway Home Services Indiana, said many luxury buyers aren't interested in existing homes because they consider them outdated.

Instead, Cooper said, luxury buyers are opting to build their own homes—but even that might not continue, as wealthy families look to downsize.

"I think the demand overall even to build a luxury home is going to go down," he said. "They don't need more space. They need less."

Instead, he added, they might look to invest extra cash in vacation homes.

Mark Zukerman, principal of Encore Sotheby's International Realty in Carmel, said he's bullish on the luxury-home market in 2018, but cautioned that sales might not increase at the same rate as last year.

In 2017, home sales of $1 million or more accounted for about 21 percent of his office's sales. In 2016, they represented only 9 percent.

Litten said he sees a "sense of optimism" among buyers, who seem to be willing to pay more for their homes. In 2009, 93 percent of sales in the Indianapolis market were below $300,000. Now, it's only about 80 percent.

"That just shows you there are a lot of people out there parting with their money and putting it in the housing market," he said.

Luxury-home prices are up nationwide. According to Redfin data, they increased 7.4 percent year-over-year in the fourth quarter of 2017.

In Indianapolis, the year-over-year average luxury-home price is up nearly 8 percent in fourth-quarter 2017, but down almost 10 percent from the fourth quarter of 2014.

Cooper said the luxury homes that are selling often sit on the market a long time.

"If it sells in less than a month, and it's above $1 million, you did something right," he said.

Other real estate experts agree that homes priced at $1 million-plus do take longer to sell, but they don't see that as a sign of low interest.

Zukerman said there are simply fewer buyers in the $1-million-and-above market.

Litten said homes listed at $1 million to $1.2 million typically stay on the market 16 months, and homes at $2 million or more might be for sale as long as two years.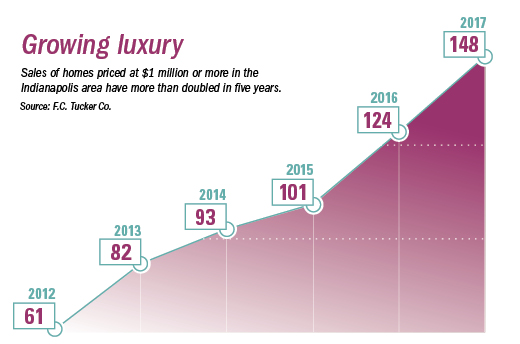 The average time to sell a home for the overall Indianapolis market is about three months.

In December, nine homes were sold at $1 million to $1.9 million—a tiny fraction of the 1,981 homes sold in the region.

"I see days on the market as being a factor, but I don't see it being an overriding factor that it would take forever for your home to sell," Zukerman said. "I don't think it is a giant deterrent to selling … and I think things are getting better."

Some of the most expensive 2017 home sales in Indianapolis went pretty quickly—the condo at the Conrad was sold in 62 days. But an eight-bedroom, 10-bathroom home on Spring Hollow Road, near West 38th Street and Interstate 65, sat on the market 290 days before selling for $2.4 million.

Cooper said many luxury homes linger on the market because buyers think they require expensive updates, which can also cause the home price to drop. And it doesn't take long for a luxury home to be considered old, he said, despite what the current homeowners might believe.

"Ninety-nine percent of luxury-home owners do not see that their homes are outdated," Cooper said. "In a 10-year-old luxury home, the kitchen is dated."

He said buyers are often turned off by the thought of renovating massive homes, especially when they could instead build a new home with all their preferred finishings.

"Their mind-set is, 'I'm not moving unless I can buy a brand-new house,'" Cooper said. "They don't want to go in and redo the kitchens and the bathrooms."

Zukerman is more optimistic about older homes, though, saying their neighborhoods are prestigious, so people will continue to want to invest in those properties.

"I think Marion County—its established, really old neighborhoods—are timeless, and those property values will continue to be preserved," he said.•