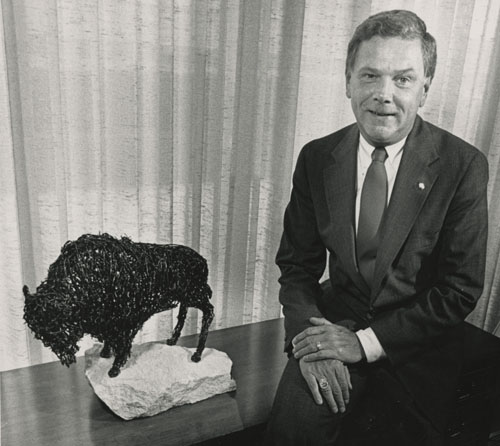 Andy Paine Jr., who spent decades as one of Indiana's top bankers before retiring in 1998, died this week from cancer at age 80.
Paine spent 37 years in banking, starting with Indiana National Bank, where he rose to president and chief operating officer. At his retirement, he was president and CEO of the Indiana arm of NBD Bank, whose parent company acquired Indiana National in 1992.
As Paine recounted in a 1998 IBJ profile, his career began in 1961, when he walked in to Indiana National's headquarters unannounced and asked for a meeting with the bank's chairman, Pat Flynn.
Within five minutes, he was sitting across from Flynn, asking for a job.
"Ten days later, I was in INB's management-training program," Paine recalled.
Paine said in that profile that he had not planned on a career in banking. When he graduated from DePauw University in 1959 with a degree in accounting and economics, his father, who had spent a career with Continental Bank in Chicago, advised him to try a different line of work.
"He had enjoyed his career but didn't think it was a very dynamic industry," Paine recalled.
So the younger Paine became a management trainee at Illinois Bell Telephone Co. But after six months, he didn't think Ma Bell was a very exciting culture, either.
Then he joined Charles Merrill Publishing Co., a textbook publisher in Columbus, Ohio, as a salesman. After 18 months of traveling six, and sometimes seven, days a week, Paine gave banking a second look.
He received offers from all three Chicago banks he approached. But he was nervous about going to work for a competitor of his father's bank, so he looked for a job at INB.
After joining INB, Paine rose quickly through its ranks, getting his big break when the bank ran into trouble in the mid-1970s after getting into the real-estate-development business.
Tom Binford, who had been appointed CEO to help turn around INB, tapped Paine to spearhead strategic planning.
Paine, a commercial lender by training, didn't know anything about strategic planning. But he was willing to learn. At the time, few companies—and even fewer banks—were doing such a thing, so Paine visited companies like General Electric and IBM for pointers.
He was soon promoted to executive vice president, taking an office on the bank's richly appointed fifth floor at the One Indiana Square office tower downtown.
He stayed for nearly a quarter century.
When the strategic plan was executed and INB returned to financial health by 1979, Paine became president of the bank.
Binford, whom many credit with saving INB, told IBJ in 1998 that his faith in Paine was no accident.
"I saw then what I still see in him: enthusiasm, intelligence and the ability to work with people," said Binford, who died in 1999. "The team he helped put together really formed the backbone of our recovery."
In 1980, Binford handed over the reins to INB veteran Tom Miller, whom Paine succeeded in 1994, two years after the bank was acquired by NBD Bancorp. of Detroit for $850 million.
 
"I'll never forget when I told Tom Miller that I wanted him to succeed me," Binford recalled. "Tom said, quite sincerely, 'Are you sure it shouldn't be Andy?'
"I told him, 'I'm sure you're the guy now, and Andy's the guy next.' That's a pretty high compliment to Andy. He's been a winner all his life."
Paine—who also served on the boards of many of Indianapolis' most prominent companies and not-for-profits—is survived by Jane, his wife of 57 years, four children and eight grandchildren, as well as a sister.
The family is planning a celebration of his life in May or June. Updates will be posted at ajpcubsinb.com, a link that pays homage to his lifelong love of the Chicago Cubs.
Please enable JavaScript to view this content.