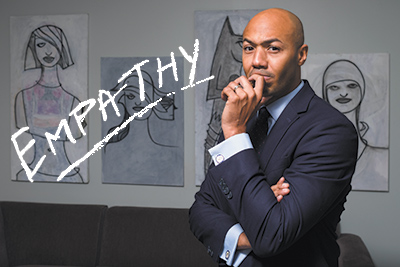 Chief of Staff and General Counsel
Indianapolis Public Schools
The former Broad Ripple High School teacher added a law degree to his resume, worked in the Prosecutor's Office, and now combines both fields to try to change the face of Indianapolis education.
Age: 38
Birthplace/hometown: Washington, D.C. 
Family: wife, Jasmin; children, Zara, 6; and Nadia, 2
Education: bachelor's in secondary education from Indiana University, law degree from Indiana University Robert H. McKinney School of Law
Years with organization: under a year
Getting here: Young taught social studies at Broad Ripple High School, Craig Middle School in Lawrence Township and the School for Inquiry and Social Justice in New York before earning his law degree. "After almost eight years in the classroom, I loved teaching and connecting to students," he said. "But I was in my mid-20s—too young to be complacent—and yearned for another challenge." Post-law-school jobs included deputy prosecuting attorney in Marion County, associate at Bose McKinney & Evans LLP, then director of the mayor's Office of Education Innovation in Indianapolis.
Inspirational moments: "My wedding and the birth of my children."
Recent challenge faced: "Jumping into a new position and taking the lead on critical issues impacting the organization," he said. "But … I'm still in that brand-new phase and it would be arrogant to call out victories. One thing I'm excited about is the type of relationships forming with the team I work closely with—understanding their work streams, asking tough questions and getting difficult answers."
The message: A key part of his job, he said, "is making sure people understand how important IPS is to the city." He said education is a vital part of economic and neighborhood development.
Givebacks: A previous appointee to the Indiana Civil Rights Commission and board member of the MLK Community Center (which he helped rally back after a temporary closure), Young now serves on the board of the Eiteljorg Museum of American Indians and Western Art. "There was a time, in the private sector, where I was invited to join lots of different boards. For me, there's a decision matrix. Does the organization's mission line up with my values? If yes, move on to next step. Do I have the energy and capacity to be a value add? If yes, move to next step. Ultimately, I look at the composition of the board to make sure I would fit with its spirit, makeup and culture."•
Check out more 2018 Forty Under 40 honorees.
Please enable JavaScript to view this content.