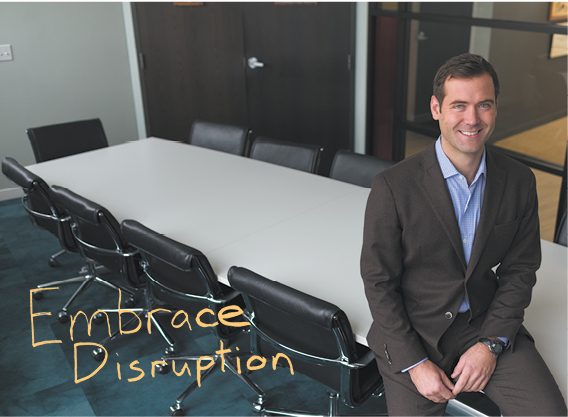 Senior Director of Capital Markets and Transactions
Kite Realty Group Trust
Age: 35
Birthplace/hometown: Indianapolis/Zionsville
Family: wife, Ashley; daughters, Lillian, 4; and Sylvia, 3
Education: bachelor's from The Citadel in business administration with a concentration in accounting
Years with company: 7
Getting here: While running a lawn-mowing business in Zionsville, Basch learned his first lesson in real estate: Commercial clients paid better than homeowners. He didn't have a real estate focus in college, but with an accountant father, he thought, "If I can learn the numbers, that can transfer into anything I'd want to do." Ernst & Young proved the training ground, followed by CBRE in Charlotte, North Carolina.
On guard: Serving on the Summerall Guard—Citadel's silent drill team—was a formative, intense experience, requiring three weeks of intense physical training and rifle drilling to qualify: "They run you until people just quit and you're left standing." Lesson: "Good things are things that you have to give a lot for."
Transitional moment: "Struggling through a severe recession so early in my career taught me a lot about my endurance threshold as well as ingrained a perspective of gratitude, for my job toward my employers, and for my family."
Recent professional challenge: The recent spurt in company growth, including an acquisition that essentially doubled KRG's size. "It gave us a bigger platform to connect with our customers and tenants looking for multiple locations. Retail is a challenging business. It helps when you have multiple, high-quality centers to offer."
Givebacks: Basch serves on the board of the Riley Society advisory committee and is a court-appointed special advocate for Child Advocates of Marion County. "There has been a tremendous rise in Marion County cases leaving kids without a voice," he said. "I learned about it when I saw legal notices of parents giving up rights to children. I have two young kids and never heard of anything like that before. It was a call to action for me to be more heavily involved."•
Check out more 2018 Forty Under 40 honorees.
Please enable JavaScript to view this content.